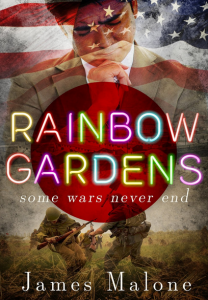 Rainbow Gardens, a fantasy novel set in WWII mixing troll lore with gory action and a dreamy tale of redemption and forgiveness in this epic story from debut writer James Malone.
The trolls, imagining themselves The Descendants of Cain, are searching for the truth about their origins, searching for their redeemer to come and save them from their own terrible legacy.
Harry Shikita, a Japanese American, is building Rainbow Gardens over years, a motorist's dream resort. He could be the one, the trolls think he is. But when Pearl Harbor strikes, Harry is taken into custody, and his life is ruined. What will happen to the troll's redeemer, and is it really true that Rainbow Gardens holds the key to the trolls' salvation?
Malone writes well – his entire premise sounds crazy until you actually start reading the prose, and then you realize the talent and storyweaving that has gone into this book. It's a passion project, and Malone has pulled out all the stops to make this book a worthy contender for one of the fantasy books of this year. So unusual is the premise that there is interest here for almost anyone who wants to escape into a story rich with unusual worlds, traditions, and backstory. It shows that this book took the author years to write instead of rushing it out.
There's almost a Christian metaphor here: the Descendants of Cain looking for God, but it's just another way of describing a lost people looking for freedom from their past, and therefore readers will relate to the troll characters. Don't get me wrong, they still eat people, and love their dirty cave holes, and act disgustingly most of the time, but they somehow manage to come across as lovable characters as Malone cleverly narrates their daily routines and belief systems, from the beginning there is an understanding of their moral system and why munching down on a crashed pilot is just part of who they are.
At 703 pages, you're either going to find this book tough going, or revel in the length, and immerse yourself in the rich world Malone has created. With a few hitches with formatting and editing, the book almost cries out to be a good old fantasy tome in paperback to be dogeared and a burden in a fantasy-lovers bag for months like my Stephen Donaldsons were while I was a teenager, especially given the eye-catching cover art.
I applaud the author for not putting this book out in paltry parts as a series. It's so much nicer to have this book in one piece, and I appreciated that. While many authors hold back on first parts in the misguided belief they can tease the reader into having to buy the second book, it was much preferable to have the whole shebang in one work, and I hope this leads the way for authors having more pride in their storytelling and the confidence to write a great epic and put it out for maximum indulgence as Malone has done. Rainbow Gardens is a must for fantasy readers everywhere.
Links
Amazon
Author Website

[divider]