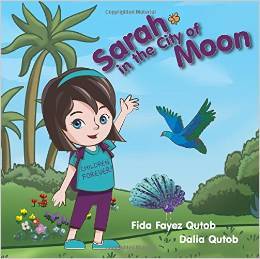 Sarah in the City of Moon is a sweet story about friendship and curiosity. Five-year-old Sarah takes a class trip to the City of Moon (also known as Jericho, the oldest town in the world and the lowest point on Earth). She wanders away from her group and her bus departs, leaving Sarah to find help, which she does at a nearby mosque. It's revealed that Sarah has come from a Catholic school and she befriends a young girl who lives at the mosque. In a time of great conflict in the Middle East, and religious turmoil, Sarah in the City of Moon teaches tolerance of different cultures and exploring the world with an open mind.
As is stated in the afterword, "The story of Sarah was created in recognition of orphans all around the world…with a view of helping orphans cope with some of the challenges that impact their emotional wellbeing. " As Sarah is left behind by her school bus, which is a pretty distressing scenario for any child, this could help children empathize, and discuss, issues of abandonment. Though that's a very heavy issue, Sarah in the City of Moon is still sweet and gentle enough that it should be able to open a dialogue. It's a very difficult issue to cover, and Fida and Dalia Qutob achieve their aims gently and deftly.
At times, though, the book is a bit too indirect in how it covers these themes. Though the book is about a sense of abandonment, there is no direct mention of Sarah being an orphan. To children who are less familiar with these pressing issues, the book's themes would need to be explained by an adult, which may make its goals less effective.
Additionally, Sarah's friendship with the Muslim girl happens very quickly. They meet and then become fast best friends. There is little about their cultural differences, and what it means to be friends from different cultures. That may be the authors' aim, as children do not see these differences like adults do – as it says at the end, "Let's stay children forever" – but there could have been more added to the book about overcoming cultural differences. The book may be more careful than it needs to be, and could have delved into all of these issues more deeply.
At its core, Sarah in the City of Moon is a well-meaning and optimistic book that can foster discussion and understanding. Its goals are also incredibly noble, as proceeds will go to the Dar Al-Tifel Al-Arabi Organization, which aids Palestinian orphans in Jerusalem, so please do consider purchasing this book to help aid this highly noble cause.
Though there are some issues with clarity, Sarah in the City of Moon is a warmhearted and joyful book about difficult themes. It's beautifully and crisply illustrated, and overall conveys an uplifting message of hope and warmth that can be enjoyed by any young reader.
Links
Twitter
Amazon
Goodreads