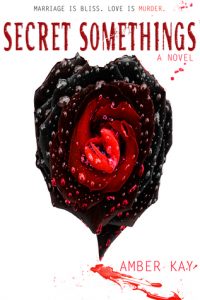 Secret Somethings, by Amber Kay, will shock, terrify, and intrigue readers. And they will keep turning the pages until the end.
When Jude marries Bryce she thinks she's finally found happiness. Her life hasn't been easy, and after battling a debilitating mental disorder, she wants to have a normal life. Bryce is funny, charming, good looking, and insanely wealthy. On the surface he's the perfect catch. But Bryce has secrets of his own. As Jude falls in love with Bryce she has to come to terms with who he is. Can she survive his secret?
Right from the start, the reader knows Jude has murdered her husband on their honeymoon. This is an interesting start and at first one may wonder why the author played all her cards at once. As the story unfolds, the reader learns that there is so much more to Jude's story.
Kay switches back and forth in the story, and this method takes some getting used to, but once you settle into the rhythm, it becomes apparent that she made the right choice. Telling a bit from the present, and then going back in the story to explain why the latest piece of information is crucial heightens the feeling that something bad happened or is about to happen. Not just Jude murdering her husband, but so much more.
Creating a character like Jude must have been a challenge. For the story to work, Jude has to be innocent, but not a complete victim. Even though she is battling a mental illness, she needs to be capable to make right decisions. This doesn't mean that she always does in the story. However, she is capable and watching her struggle with what to do and what she thinks adds a psychological aspect to the storyline that is quite compelling. It's the mind games that make this an entertaining story. Even from the beginning, Jude questions Bryce. "Of course, he's hiding something. He's too perfect to be perfect." Yet she can't walk away from him. The reader senses something terrible is on the horizon, and like Jude, the reader can't stop reading.
While the author did such a fabulous job creating Jude, there are some inconsistencies in the story that may make the reader wonder. For instance, Jude, who is in her early twenties, lives with her parents. Her mother is smothering, and yet at a key point in the novel, she discovers Jude in her bedroom packing a bag. After a brief conversation she leaves Jude and falls asleep, allowing Jude to slip out of the house and escape to New York City. If her mother is smothering, would she leave her mentally unstable daughter alone after realizing Jude was attempting to run away? Wouldn't she stand guard?
Aside from these minor inconsistencies and some typos, Amber Kay has crafted a suspenseful psychological thriller that will push the reader out of their comfort zone. This is dark novel that raises questions about morals, love, and mental illness. It will stay with you well after finishing.
Links
Amazon
Smashwords
Author Site
Goodreads