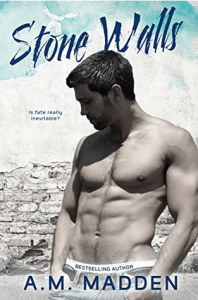 AM Madden's latest romantic suspense novel Stone Walls is the story of NYPD cop Ben Stone. When Ben's best friend and partner Rob's girlfriend Andrea brings her best friend Ella Parker out to meet him on a foursome, he's not ready for a serious girlfriend, and neither him nor Ella appreciate the matchmaking. Ella's just out of a long-term relationship and Ben is having a casual thing that's getting on his nerves.
Written in the first person, present tense from Ben and Ella's point of view, this is pretty hardhitting writing: urban, gritty and realistic to the real way men and women talk to each other, think and write – and have encounters rather than the usual rote for-females softy stuff a lot of romance writers go for. Madden really understands her readers want more, and she dishes it out in good portion to deliver a more exciting and intelligent read with more than one story thread at work here.
Nicely juxtaposed with the crime-busting that Ben and Rob deal with at work, there's more to this book than just your usual boy-meets-girl yada. Getting hell-bent on cracking a narcotics case, they have to get busy working with the FBI to investigate Victor Politto Jr, part of the Volante mob family. This really does give the reader a sense that Ben Stone is not just a cardboard loveboat, but an operating, well-rounded personality with a real life to live – as well as being gorgeous, of course. And, sometimes, a downright douchebag, given he's a bit of an alpha male.
Ella Parker is just as divine, but she has a brain, and isn't just mooning about men all the time – hell, that's refreshing! She's got a life, and interests, such as being a black belt in Tae Kwan Do. For me, she was a little preoccupied with the memory of her mother to be really as strong as intended, but it's forgiveable.
The reader learns that there are reasons that both Ella and Ben have "stone walls" around them, and in this book, they go along way to breaking those down. When they finally do, romance fans get plenty of well-described action between them. It's much better they meet and hang out first, as personally I hate it when people fall into bed in two seconds in romance books because it makes it so clinical. Here, there's been some building of a relationship of sorts, and that adds to the ambience and gives Madden some room to play in a way that wouldn't have been possible otherwise. The actual plot of the book is a real ride into New York cop life, and weaves surprisingly through characters' lives and routines in a way that is unpredictable, complex at times, and really fun to follow.
My only gripe was the cover and title – I think this book deserved a more original and crime-busting, urban feel, not just another bare-chested guy with "bestselling author" on his tighty whiteys, hanging on the street corner – at first glance it looks like a gay novel: given the title is so similar to "Stonewall", and the fact it is set in New York City, I wouldn't be surprised if this book has been confused by some already. Maybe it's not that much of a big deal, but these factors (plus a few bits of grammar astray) stopped me grading the book all the way to 5 stars.
That aside, romance fans will love this HEA story set against the underbelly of NYC crime, and Madden is really starting to emerge as a prolific force in the romantic suspense genre.  Stone Walls has mature content. 18+ readers only.