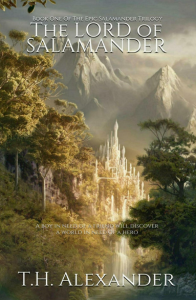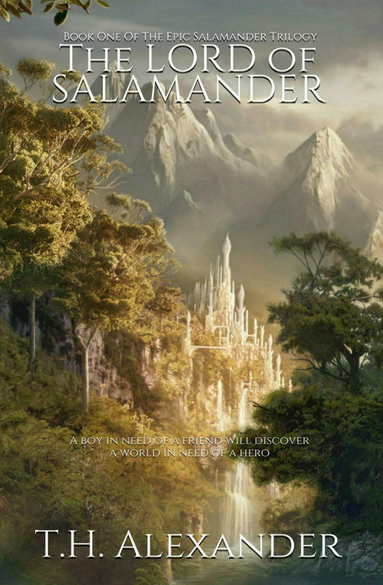 The Lord of Salamander is the debut novel of author T.H. Alexander and is an exciting fantasy tale for the young adult crowd.
This coming of age story follows the adventures of Elijah Pendleton, a boy with a miserable home life, no backbone, and a host of unfulfilled hopes.  He desperately needs to believe that more exists than the abuse of his distasteful aunts.  When he first sees a strange cat in the backyard, he can scarcely imagine that its appearance will prove all his wishes to be true.  Soon, Elijah is thrust into a new world of wiccans and magic, leaving his old life behind.  It is a place of wonder and fear, good and evil, magic and mystery – the land of Salamander and the Mythic Realms.  But the revelation that he is both the heir to extraordinary powers and the hope of a generation is his greatest surprise – one he may not be prepared to face.  Elijah, and the friends he accumulates along the way, is thrust into a dangerous quest, crossing dangerous lands, ferocious beasts, and mythical hazards.  Elijah will need the aid of his companions if he is to bring down the Black Prince – but first, he must master the power within himself.
The Lord of Salamander brings to the table all the fast-paced excitement and swashbuckling adventure needed for a successful young adult fantasy.  The way in which obstacles crop up in each chapter and are narrowly defeated is reminiscent of the Percy Jackson novels by Rick Riordan.  Alexander's writing style is engaging and urgent, and it lends itself well to the nonstop action.  Elijah, as a character, is a sympathetic personality and easy with which to identify.  He comes off as well rounded, and Alexander does a fine job of relating Elijah's past experiences to his present attitude, outlook, and even flaws.
Some issues crop up throughout The Lord of Salamander.  In particular, Alexander often mixes past and present tense in his prose, which results in some confusion while reading.  The description in the book is a bit lackluster, and very little time or effort is spent in creating a visual picture of either characters or settings.  Also, some spelling, grammar, and editing mistakes are present, which could easily be removed with a professional edit.  Last, but likely the most jarring, the book is clearly written for a children/YA audience, and yet content unsuitable for that audience is common.  For example, the protagonists – who are young teens – often burst out in profanity.  This wouldn't be at all out of place in a book intended for an older YA crowd or an adult readership, but The Lord of Salamander's target audience includes children and readers on the younger side of the YA group.  It is not excessive or offensive, by any means – simply out of place.
In summary, The Lord of Salamander is a solid debut by a promising young author, but a few tweaks to content and editing could improve the overall narrative.  With a style and world reminiscent of J.K. Rowling's Harry Potter series and a bundle of action to keep Percy Jackson fans enthralled, The Lord of Salamander will, no doubt, provide excellent reading for children and young adult readers alike.