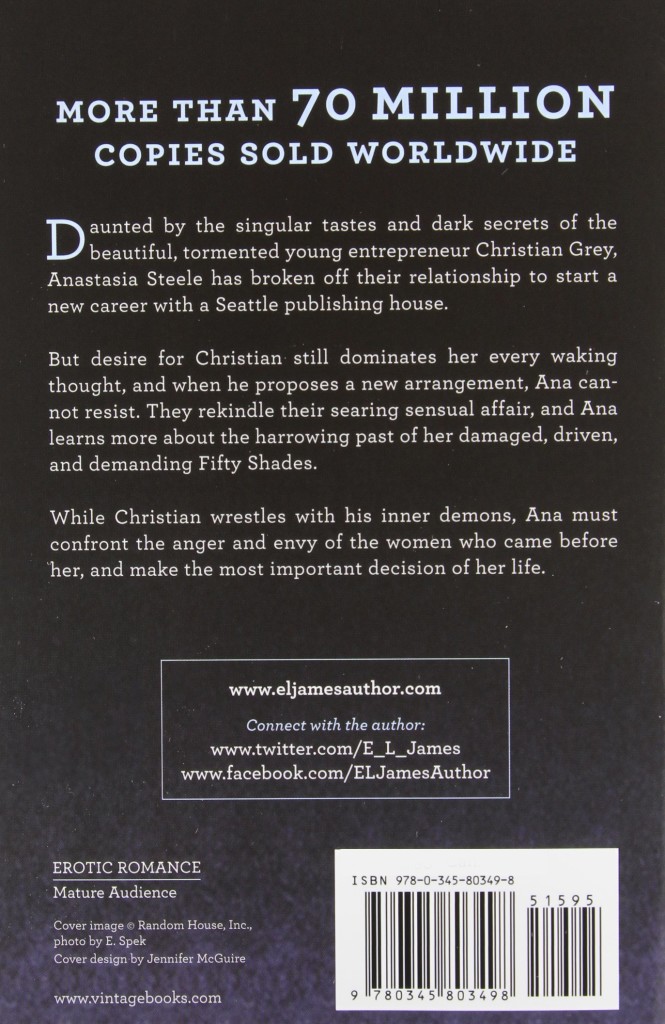 By far, the weakest part of many self-published books is the synopsis found on Amazon and elsewhere. Worse than the cover, worse than the writing in the book itself, there are a lot of blurbs on Amazon that are pretty near atrocious. I include my own books in this category. Writing a decent blurb is an artform totally separate from writing a book.
Authors are also on record saying this is their least favorite part of the process. It can make you feel icky writing superlatives about your own book. At the same time, too many superlatives can literally be icky ("A work of genius" comes to mind). A good blurb needs to strike a balance between being informative, but not too informative, salesy, but not too salesy, while somehow coercing a stranger into spending money. It's difficult, to say the least.
That said, there are some very common errors that show up time and again, and are pretty easy to change.
The main issue is too much plot. You can see the writer's process: they've lived with their plot for months, they know it inside and out, they think it's pretty cool, and so they load up a blurb with plot points. Writers are forgetting that a new reader is coming to a synopsis blind.
It's sort of like how writers can't see a typo even if they've looked at the same sentence 50 times. They know what that sentence is supposed to say, so they'll fill in the missing "the" or "and" because they know it should be there. The same goes with plot: they know how exciting the plot point is, so just mentioning it recalls all the blood, sweat and tears put into the plot's creation.
That is, for the author. No one else. For anyone reading it the first time, a flat plot description just reads like a flat sentence.
Blurb Shark, which is mostly defunct, has a good summation of an ineffective book blurb here. Here's the blurb:
History depends on who's telling the story…

Two thousand years after the Reboot, much is to be celebrated. The Intelligentsia toiled in the shadows back to antiquity, shaping politics and governments in secrecy. After the Reboot–a peace treaty signed with the religious rebels known as the Reformists–science now dominates the culture. Manufacturing and hard labor is outsourced to factories, where genetically engineered superhumans work in the hopes of pleasing their God and achieving Enlightenment. They are grown in incubation labs until they receive an upload of information necessary to fulfill their purpose. That is, until the arrival of Bannon Force, a prophesied new infant who defies logic and science. Civil unrest is imminent, perhaps this perfect utopia is not all that it seems…
It starts off nice, but then gets very weighted down in backstory. As Blurb Shark says:
Things go downhill in the first sentence when we encounter the dreaded PASSIVE VOICE. This is a warning flag to the experienced reader, who will now proceed with caution. Then we get a lot of world-building back story, but no sense of who the hero is.

OK. Back to basics. What information do you need to include in your blurb?

Who is your hero?
What do they want?
What is stopping them from getting it?

That's it. The relevant back story details will emerge as a result of providing us with the above information.
Contrast that with The Hunger Games blurb. It has some world-building backstory, but also gets into the hero, Katniss:
In the ruins of a place once known as North America lies the nation of Panem, a shining Capitol surrounded by twelve outlying districts. The Capitol is harsh and cruel and keeps the districts in line by forcing them all to send one boy and one girl between the ages of twelve and eighteen to participate in the annual Hunger Games, a fight to the death on live TV. Sixteen-year-old Katniss Everdeen, who lives alone with her mother and younger sister, regards it as a death sentence when she is forced to represent her district in the Games. But Katniss has been close to dead and survival, for her, is second nature. Without really meaning to, she becomes a contender. But if she is to win, she will have to start making choices that weigh survival against humanity and life against love.
Good Blurbs
Here are some other effective book blurbs. Not a great fan, but 50 Shades of Grey does have a decent blurb for its Kindle edition:
When literature student Anastasia Steele goes to interview young entrepreneur Christian Grey, she encounters a man who is beautiful, brilliant, and intimidating. The unworldly, innocent Ana is startled to realize she wants this man and, despite his enigmatic reserve, finds she is desperate to get close to him. Unable to resist Ana's quiet beauty, wit, and independent spirit, Grey admits he wants her, too—but on his own terms.

Shocked yet thrilled by Grey's singular erotic tastes, Ana hesitates. For all the trappings of success—his multinational businesses, his vast wealth, his loving family—Grey is a man tormented by demons and consumed by the need to control. When the couple embarks on a daring, passionately physical affair, Ana discovers Christian Grey's secrets and explores her own dark desires.
A good, concise use of adjectives that gives you a full sense of the characters. This blurb actually seems perfect: it's exactly what the book's about.
Here's Hugh Howey's Half Way Home, illustrating that it's possible to use something besides the the third person:
Five hundred of us were sent to colonize this planet. Only fifty or so survived.

We woke up fifteen years too early, we had only half our training, and they expected us to not only survive … they expected us to conquer this place.

The problem is: it isn't safe here.

We aren't even safe from each other.
There's tension – the tension you feel in a page-turner at the end of a chapter that makes you want to keep reading. Why isn't it safe? It makes you want to at least read the sample to find out.
Bad Blurbs
This isn't an exact science, as the blurbs of some very popular novels don't even seem that great. Here's The Fault in Our Stars:
Despite the tumor-shrinking medical miracle that has bought her a few years, Hazel has never been anything but terminal, her final chapter inscribed upon diagnosis. But when a gorgeous plot twist named Augustus Waters suddenly appears at Cancer Kid Support Group, Hazel's story is about to be completely rewritten.

Insightful, bold, irreverent, and raw, The Fault in Our Stars brilliantly explores the funny, thrilling, and tragic business of being alive and in love.
"…her final chapter inscribed upon diagnosis" is pretty inscrutable.
Here's Gone Girl:
On a warm summer morning in North Carthage, Missouri, it is Nick and Amy Dunne's fifth wedding anniversary. Presents are being wrapped and reservations are being made when Nick's clever and beautiful wife disappears. Husband-of-the-Year Nick isn't doing himself any favors with cringe-worthy daydreams about the slope and shape of his wife's head (what? This seems to make sense only after you read the book), but passages from Amy's diary reveal the alpha-girl perfectionist could have put anyone dangerously on edge. Under mounting pressure from the police and the media—as well as Amy's fiercely doting parents—the town golden boy parades an endless series of lies, deceits, and inappropriate behavior. Nick is oddly evasive, and he's definitely bitter—but is he really a killer?
For a hugely popular novel, this could use a rewrite.

Book Blurb Tips
For some reason, book covers get all the attention, and blurbs less so. To my mind, a blurb is equally important. You're going to be actually reading the book, not looking at an image, so a dull blurb says way more about a book than a bad cover. Obviously covers are important, but a great cover and a bad blurb may be equal to a bad cover and great blurb. Writing is supposed to be an author's strong point, while bad graphic design is more excusable.
Blurb Do's
Make it 100-200 words at most. Use line breaks as well.
Use bold and italics, such as for awards, or "#1 Bestseller," if you're so lucky.
Remember to add genre keywords to your description (mystery, dystopia, thriller, and so on), but don't overdo it.
Use adjectives to describe a character. See: FSOG above. Christian Grey is "beautiful, brilliant, and intimidating." We don't need examples of this, adjectives are a good stand-in.
Similarly, condense the plot as much as you can to its feeling, rather than a line by line retelling of action.
Tell us about your lead character! A reader is looking to identify with a central protagonist.
Blurb Don'ts
Write 200+ words, with no use of paragraph breaks. Stay away from one gigantic paragraph.
Include spoilers – seems like a no-brainer, but a spoiler can sometimes be the most exciting part of a book so you'll be tempted to put it in to tempt readers.
Summarize the entire plot. See The Hunger Games blurb above. Basically: There's this thing called the Hunger Games where people fight to the death. Katniss is selected to enter the games. That's it. General is better, less is more.
Be overly flattering of yourself. People are aware an indie book's description is written by the author, so "The next Stephen King" is going to be transparent.
Penny Sansevieri at Jane Friedman's blog has a good set of tips for enhancing your book description here. She includes these essential tips for HTML formatting:
Bolding: <b>The text you want bolded</b>
Italics: <i>The text you want italicized</i>
Headline: <h1>The text you want for a headline</h1>
Amazon Orange Headline: <h2>The text you want bolded</h2>
If you're in need of some help with your book description, SPR now offers a Blurb Rewriting Service.