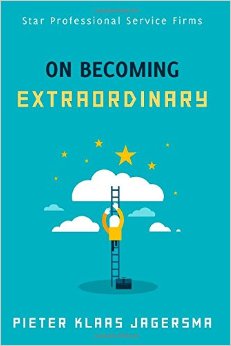 On Becoming Extraordinary: Star Professional Service Firms is a business book by Pieter Klaas Jagersma. When I first glanced at the title of this book, I thought I was about to read a book that would tell me how to stop procrastinating, maintain a healthy weight, keep my office well-organized and my house clean—that last one would be extraordinary indeed. I was delighted to discover that this book is nothing of the kind.
As I would have seen (thought not been much enlightened) if I had read the subtitle, On Becoming Extraordinary is about Professional Service Firms (PSFs), particularly how to form and successfully operate one. Jagersma analyzes what he calls "star" PSFs and advises readers on what it takes to be a star in this lucrative field. Prior to reading this book, I had never heard the term PSF, but this book told me everything I had no idea I wanted to know about this niche in the business world.
For readers similarly in the dark, a PSF is a firm whose mission is to advise other firms on business matters specific to the needs and interests of those other firms. Investment advisory, accounting, advertising, human resources advisory, and executive search firms are examples of types of firms that fall under the umbrella of PSFs.
"Today, senior managers at many organizations rarely make major decisions without seeking counsel; they will always be prepared to pay for good advice. In fact, without professional service firms, business as we know it would come to a grinding halt. The future of PSFs seems very bright," Jagersma tells us.
The star firms Jagersma cites as examples include, as he describes them, "Goldman Sachs (also known as 'Goldmine' Sachs), KKR, Boston Consulting Group, PwC, and Clifford Chance." He also mentions as exemplars in the field Egon Zehnder, JP Morgan, Ernst Young, Edelman, and Blackstone. These firms came on the scene in the 1960s and took off. Jagersma says they "are impressive knowledge laboratories and perpetual money machines—post-modern licenses to print money." Who wouldn't want to know more?
The book is very detailed without being tedious. It offers quite specific advice on issues such as how to assemble a team, manage employees (this section struck me as wonderfully modern and enlightened), work with clients, and stay on top in an extremely competitive field. It provides no small detail on how to actually operate once you have the clients—detail I expect would be useful information for readers planning a PSF venture of their own, or even someone climbing that particular business ladder.
The style is a combination of something like a chapter in a business school textbook and a hands-on guide, or users manual, if you will, for starting and running such a business. (Maybe this is a self-help book after all.) But don't let that textbook reference put you off.
On Becoming Extraordinary is well written, surprisingly free of jargon (though the word "core" does come up distressingly often), and even witty in places. The chapters are designed to be standalones if readers prefer, but it has a cumulative feel to it. Each chapter includes bullet points, tips, copious notes, and specific examples and advice from the aforementioned leaders in the field. Suggestions for further reading are appended. Jagersma states in the introduction that it is his aim to, "produce an accessible, useful, and practical book full of hints and tools," and he has indeed done that.
If you already know the basics of PSFs, you may want to skip ahead to the material of most use and interest to you. However, I expect that the down-to-earth tone and detailed discussion would be interesting to anyone in the business field. The merely curious will find this a pleasant and informative read; those interesting in joining the world of PSFs will find it a essential guide.
Links
Author Site
Amazon
Author Site