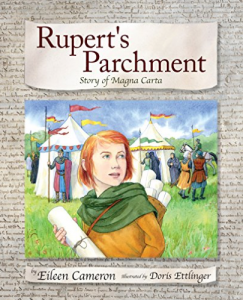 The award-winning team of Eileen Cameron and Doris Ettlinger have collaborated once again to create Rupert's Parchment: Story of Magna Carta. June 15, 2015 marks the 800th birthday of the Magna Carta and this story is a wonderful way to introduce and bring to life the momentous event to young readers.
Rupert's father is the local parchment maker. When a bishop's clerk requests some parchment from Rupert's father, an unforgettable opportunity arises for Rupert. He's given the chance to be a messenger. This allows Rupert to witness firsthand the sealing of Magna Carta at Runnymede meadow in England in the year 1215.
In this momentous charter, King John vowed to honor the liberties and rights of free men in England. This significant event changed not only English freedoms, but inspired the origin of American freedoms centuries later that are still enjoyed today.
Creating Rupert, a fictional character, to relate the story of Magna Carta was a brilliant move by the author, Eileen Cameron. It's never too early to introduce children to history and presenting it through a child's perspective is a clever way of engaging young readers. The signing of a charter can come across as a bit stuffy and boring. Yet, Cameron's tale is anything but. Rupert is intelligent, energetic, honest, excited, and at times terrified. These are qualities children can relate to. The author doesn't go into too much detail about the events leading up to Runnymede and there's no reason to bog down this particular story with those types of details. Instead, she plants crucial seeds in the reader's mind. More importantly, she highlights how historic the event was to English citizens and how this charter also shaped American rights many years later.
Doris Ettlinger has created magnificent illustrations that capture the mood of the times and makes the story accessible for children. Each one is vivid and exciting. A youngster can follow the story through the illustrations alone, and hopefully many readers will enjoy thumbing through this tale repeatedly.
In the back of the book, Cameron has included a section explaining the importance of the charter. This section is packed with historical facts, and it's a great addition to the book. Educators and parents can use her ideas and explanations as a way to get children to dig deeper into history. Also, she has included a who's who, lists the places involved in the significant event, and a glossary. Teachers will appreciate how she compares some of the clauses from Magna Carta to some of the amendments in the American Bill of Rights, showing how Magna Carta still influences today's society.
This children's book would be a great addition to a classroom setting. Teachers and parents will appreciate how Cameron and Ettlinger have brought to life such an important event in a way that is understandable and accessible for young readers.  And hopefully a story like this will instill a fascination and appreciation of history and instruct readers how events that happened long ago still have relevance today.
Links
Amazon
Press Site