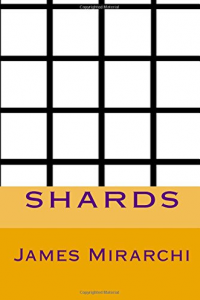 This nicely measured anthology of "pointy" poems by San Francisco-based writer and filmmaker James Mirarchi juxtapose the earthly, natural seams of life with sharp, irregular, unexpected parts to bring a fresh slant of light into word play.
An urban, city feel smears soily atmosphere onto everyday Bukowski-like scenery, while Mirarchi's dry wit, no doubt the "shards" of the book title, split hairs in ordinary situations. However, there's a touch of more spiritual and magical sight here too, with shimmers of beauty and some kind of anchoring to existence disturbing the banal streams of life.
Even the Contents page of this book reads interestingly, in a way one might find elegance in a strangely juxtaposed grocery list, titles such as, "Suite, Bastion, Cooler, Kitsch!" and later, "Charlene, Tar, Syringes, Guillotine" speak to the browsing poetry lover in a way, say, a New York punk band's LP back sleeve of song titles in the 90s might have spoken to a now past generation of word lovers (Sonic Youth come to mind), but also that sort of movie by Wim Wenders or Jarmusch where you have to really listen to get your kicks.
What this book is, is cool. With lines such as "Vultures eat each other and apologize" (Bastion) and "They are randy pinball machines" (Connections), Mirarchi tends to the rock 'n roll end of poetry composition, and it's highly entertaining. He doesn't much go for cultural reference, more that he sees and writes, and this is refreshing, because it's coming from an original place.
The anthology has been arranged well, too. It's almost in an arc, like a movie. It starts strong but slow and thick with its opening "Suite", then moves into more thinking places, and then more musical notes are hit, and more colors are exposed in the more Bizarro "things", "high school midget teacher/eats big things with/ knife & fork:/elephant brains,jet plane engines, marquee signs…" and roll further into the deeply surreal "censor", maybe one of the most interesting pieces, with the line, "like a parachute pack, her hunchback stores her metal origami wings."
It's the perfect book for taking around with you for when you want a slice of entertaining wordplay. Mirarchi makes you work for your prizes, and not all poems will be immediately accessible. That's how poems should be when in this format, and Mirarchi should look at getting this into an e-book format too, for this book, with its quickfire, rich language gives each line an opportunity to be a quote to be shared.
It would be real fun to see this writer tackle a novel with the same textures, but for now, this book is sure to capture some fans (as long as it gets discovered – the cover is a tad homely for the exotic contents) and it's hoped that this review, among other marketing efforts by the author, will go a way to help Mirarchi gain well-deserved exposure.
Links
Amazon