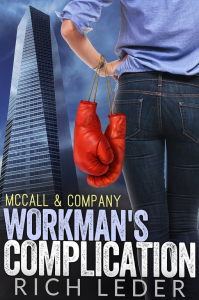 Workman's Complication by Rich Leder is the uproariously funny and engaging debut novel in the McCall & Company series. Off-Broadway actress, Kate McCall, reluctantly inherits her father's private investigator business. Her first case is investigating a construction accident, which may or may not be a scam. Meanwhile, she's also investigating her father's murder with a strange assortment of eccentrics in her apartment building, all the while keeping up rehearsals in a vampire musical.
A private eye novel is only as good as its protagonist, and Kate McCall is a richly defined and humorous central character. She may be reluctant to get in the private eye game, but she seems to attract all manner of weirdness, and finally gives in to her fate. This is a page turning novel if only for the strength of its characters, but the story itself is entertaining and fast-paced, abounding with new twists and turns. There's also a refreshing reality to the whole affair. Certainly, the novel is filled with eccentric characters, but they're all relatable: you want them to be real, just because they're so entertaining.
All told, Workman's Complication is a hilarious hard-boiled ride. Think "Beverly Hills Cop" – there's comedy, but also real detective work, making the novel at once funny and suspenseful.
Links
Author Website
Amazon
Goodreads