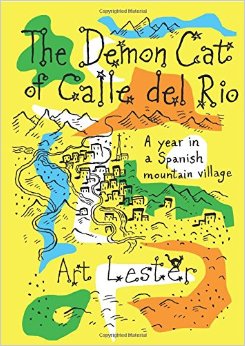 Art Lester's travelogue is a fascinating and funny account of the author's time in a tiny Spanish village in the mountains by the fictional name of Cantilla.
Books on Spain are always fascinating to other Europeans, and Lester's book is no exception. I am a Brit, and an ex-pat in Spain, and I was keen to find out if all the foibles I had found further south of Andalusia in the province of Malaga held true for Lester in Granada, albeit some years back before flights to Spain were as common as ten a day per airline from the UK.
What's great about this particular book is that the author and his wife were well-traveled when they came to Spain, and this means that the more mundane aspects of traveling are left aside, and he is able to take in all the detail and foibles pertinent to Andalusians and the area of the Sierra Nevada. Also, unlike many authors who attempt the travelogue format, Lester cleverly introduces his real-life friends and acquaintances as characters, rather than people he knows, and really communicates this to the reader in his narration. This was much appreciated, and adds a lot of color to the landscape he speaks of, with stories of the eponymous "demon" cat, as well as other animals, reflecting the culture well.
Lester highlights the important issues Spain has had in recent history through his experiences. Spain has seen two dictatorships practically back to back, and before this, Moorish settlements were turned out – expect for in certain villages of the Sierra Nevada. This means the culture he describes in the valley of the Alpujarras is an almost autonomous one, and still to this day has certain "untouched by time" qualities, and is still trying to "catch up" in certain ways with the rest of Europe. But this leaves people such as those described here open to exploitation. The property development industry has completed mined most of the coast of Spain, and has in part destroyed Spanish culture with "ghettos" of foreigners.
In this story, Lester feels the sting of guilt, or maybe responsibility, of being the "extranjero" in the village, buying a house for a few thousand, and subjecting the locals to his bad Spanish. I can relate to this. While I insist on living in the fisherman's barrio of a very Spanish village on the coast and speaking Spanish, I see many of my fellow expatriates refusing to learn Spanish and treating the locals like "the help". This is the most upsetting part of being an expat, and Lester mixes these feelings and observations in as part of his tale. He is in part an observer, and anthropologist of sorts, and wants the experience of life and to soak up the locale without disturbing it. His writing is reminscent of Jason Webster's "Sacred Sierra", a book about Valencian life – very much in the vein of Lester's writing here – but Lester also conjures up something more primal and ancient in his stories – with a little more humor, echoing the fictional mountain villagers and customs in Louis de Bernières' books. Lester has even renamed his village, in the noble attempt to keep foreign intervention to a minimum. Ultimately, as if there is something in their blood of wanderlust, or as if the village has its own protection against outsiders, the couple feel increasingly isolated from life, and the book explores these themes.
Lester is also endearing in his solid feelings for his wife, Ellen, which shine through and makes this something of a love story. They stay together quite fluidly and without effort, letting life unfold around them rather than pushing through it. This is admirable, and I found myself wanting to befriend the both of them only a few chapters into the book.
The only small issue I had with his storytelling was that he forgets at times that maybe his readers don't speak Spanish. His funny (and recognizable to me) stories about "false friends" in English to Spanish translation – words that sound similar but have entirely different meanings – needed spelling out for the non-versed reader, such as when he tells a story where he announces he is pregnant in front of a crowd – I speak Spanish, so I know he confused the word for "pregnant" – "embarazada" with "embarrassed." But this tale would be lost on someone who does not know the word.
One of the most wonderful aspects of this book is the author's ability to capture the ways of the "Andaluz." There is a certain attitude and way of socially blending that is here in these pages, with the locals who do not speak, to the tapas that gets slammed in front of you – rude to some, but here, somewhat a formal approach to manners, and a sort of "way it is." I enjoyed this from the offset, when they marvel at the perceived bad behavior of their taxi driver, who decides he's going to have his siesta drinks at the bar in the middle of their fare. Of course, it's not strange. In his eyes, they disturbed his lunchbreak. Scenes of making local food, and the tastes of each dish resonate throughout this tale, and honestly will make you hungry, and yearn for the sunshine and snow of the mountain villages described.
A fine addition to any travel library, and a must-read for anyone planning a trip to Andalusia, or those already living there.