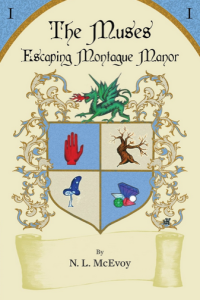 The Muses: Escaping Montague Manor by N. L. McEvoy is a curious blend of fantasy, adventure, science fiction, and thriller that makes for an entertaining read.
When Sarah and Nickolas McGuire's parents are seriously injured in a car accident in Colorado, they are whisked away to Australia to live with their great aunt Vivian, whom they have never met.
They are shocked when they meet their aunt, who is young looking and extremely unpleasant. They soon learn that she is a scientist who conducts secret experiments in her lab. They don't trust her, but they can't figure out why.
While they explore the immense grounds of Vivian's manor, they feel like they are being watched. One day, they meet an unlikely ally. But can the siblings figure out what's going on before it's too late?
The two young characters, Sarah and Nickolas, are extremely likeable. Aunt Vivian is a wonderful evil villain and whenever she's in a scene, it's cringe-worthy. A truly evil character adds such an intriguing element that engages readers and keeps them glued to their seats. And the muses will charm many readers. The author's ability to craft such a cast of characters bodes well for the future of the series. Readers will want to continue the story and will wonder what happened to all of them.
What readers will enjoy most about this story is the inventiveness and originality. The writing is another element that will help the reader disappear into the pages and magically enter Sarah and Nickolas' world. It's simple, effective, and descriptive, but it's not too simple. The author knows she's writing for a younger audience and she does it well and respects their reading abilities and challenges them at times. This is a major plus and it helps make the story entertaining for adults as well.
While this story will appeal to people of all ages, it works best for children between the ages of 10-13. Albeit, there are some dark elements to the story that may terrify some younger readers, it's handled delicately. The author mixes science fiction, mythology, and fantasy well, but some aspects of the story aren't fully explained and take a leap of faith. Given that this is aimed for children between the ages of 8-14 that makes sense. If McEvoy stopped to explain everything, it would ruin the flow of the story. Sometimes it's best to rely on smoke and mirrors to keep the plot moving at a decent pace. Too much theorizing can bog down a story and take all the fun out of it.
The novel has a nice blend of action, mishaps, lessons, and fun that will have many fans begging for the next book in the series. A great start to the series and it's nice to see a new talent writing stories that will encourage young people to read. And it will make many believe that even in a dark world one can find friends who are willing to help those who need it most.