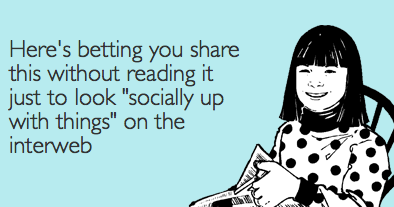 We're faced with a huge social pressure of being 'engaged online' to sell our books as self-publishers, but is our carefully-crafted content being absorbed?
As authors are encouraged to guest blog, interview, and post on all possible outlets online, is this just throwing it all at the wall when the evidence shows people share to look cool, erudite, and popular, rather that sharing what they have read?
In a world where "RIP *insert really ancient and intriguingly cool famous person's name I never heard of before today here*" is a way to make your Facebook page pop, and picture quotes from Edgar Allen Poe, Stephen King or Nelson Mandela are almost impossible to avoid on a regular basis on our social walls as users clamor (ironically) to make themselves look learned, how can we break through and make people read our stuff rather than hitting that "share" button without thinking? Does it matter if they don't read it?
Correlation Between Sharing and Reading
Last year, Tony Haile, CEO of Chartbeat in New York, a company that measures metrics of 80% of top publishers in the US, managed to freak everyone out when in February 2014 he said on Twitter (@arctictony),
"We've found effectively that there is no correlation between social shares and people actually reading"
Smallbiztrends concluded that this,
…effectively means there are two kinds of social sharers. There are those who share without finishing the article. And there are those who share because they really read and consumed the entire article.

Here at Small Business Trends, we find yet another wrinkle. We find there is often not a correlation between sharing and reading the article. That's simply because those who consume an article may not be that active on social media.
So, this could be bad news for those authors writing blog posts to gain sales. If nobody actually reads your article, how will they find your book? If the people who read your post are not very active on social media, they might not share your post – or know how.
It Matters If They Don't Read It
There's this pesky thing called a bounce rate. If someone looks at your blog post for less than the time it takes to read it, or in most cases, the time it takes to click on the "share" button, Google isn't going to record that as a visitor that likes you. Google only cares about real people who look at your website and read something.
A bounce is when someone goes to your site and bounces off your site. If they leave quickly, and don't come back — and then many people do the same thing — you have what is known as a high bounce rate for that post. That doesn't make you very popular overall with Google.
Expert Yehosuha Cohen explains bounce rates on his site Analytics Ninja (if you really wanna get into it). He says,
A measure of success for content sites is not necessarily if the reader bounces or not, but whether or not they read the article and (more importantly) come back. – See more at: http://www.analytics-ninja.com/blog/2012/06/google-analytics-bounce-rate-demystified.html#sthash.qePaWK3N.dpuf
So if you are going to retain your reader, and maybe get people really interested in your book,  you need to start thinking about how to make them stay, because you need your website to come up in searches in Google when people search for words related to your website.
Author Podcasting – Is it worth it?
We conducted some metrics on podcasts shared by some well-known names in self-publishing recently. We used a tool that could tell us how many minutes of an audio interview or video article people listen to on YouTube. We won't name names, as it's actually quite embarrassing, but several "popular" podcasts/videos had really appalling stats, revealing people are sharing to look learned, and not actually heeding the info. Here are three really revealing results:
4600 likes, 180 shares = 97% of "listeners" listened to less than 2.5 seconds of the video track of 26 minutes
6168 likes, 239 shares, 98% of "listeners" listened to less than 2.5 seconds of the video track of 9 minutes
3811 likes, 87 shares, 94% of "listeners" listened to less than 2.5 seconds of the video track of 50 minutes
And yet, unfortunately, the people making these videos/podcasts keep making them, unaware that there is no correlation between the content and the virality of their work. In fact, they could burp for half an hour, as long as they have the podcast set up as normal.
How To Get Your Content Read
Use the title to grab attention
Even if the person sharing your post hasn't actually read it, maybe your title will entice a more serious reader to take a look. Darren Rowse at Problogger has a great article about how to do this here
If you podcast, make the transcript available too
If only 2 seconds of your audio is being heard, make the written version available too, and link it in the description of your video. Here's an example from Judy Blume's interview on Readingrockets.com: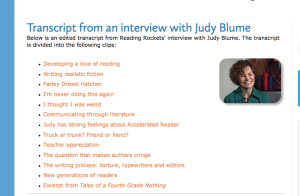 One other point here with not transcribing your podcast is that Google cannot listen to it. Google can only see words in text. You need to give Google something to hang onto if you want people to find your blog post in search.
Post links to forums and closed groups that require membership – and engage

Closed Linkedin groups and those that are for members of book and author groups off of social media, such as ALLi, with  a lot of members and that are very active with comments, gives you a fair indication that someone might read your masterpiece and care about your work, especially if you start joining in with discussions. You can try looking through the directory here.
Write posts that stand the test of time
Some people share and like posts to read later, and use these buttons as a way to bookmark the article you created. Make sure your post is not too time-sensitive by including information that readers will appreciate if they read it months, or even years, later. From experience, I can tell you a post written even several years back can suddenly go viral as the information becomes more relevant because of a change in the social zeitgeist. So avoid terms such as "yesterday" or "in a few weeks."
Support sites and newsletters that support reading posts
https://www.reading.am/ is a place to find really interesting links that people have actually read. Finding other sites that might like to share your post is another good way of sharing to be read. You can email your favorite resource sites and suggest your post. Find sites that are established and have a lot of comments.  Here's a whole list of blogs from Effective Business Ideas that accept blog post submissions, but only submit to those with active comments or lots of recent updates to make sure people are reading what's being posted.