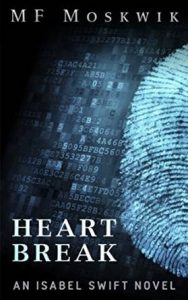 Heart Break by MK Moskwik is a fun and spirited tech-driven mystery with a likable central character, Isabel Swift, an engaging protagonist for a new series. Swift is an up and coming police officer and human lie detector who dreams of making detective. Her mentor, Ben, dies mysteriously and Swift learns there may be a connection with his death and her latest case about stolen technology. She's paired with a surly data scientist who's making her job more difficult. When other cops are found murdered, Swift has only 48 hours to connect the dots, solve her mentor's death, and make sure no one else turns up dead.
A mystery is only as good as its detective. This is doubly important for a series. Isabel Swift is a well-rounded and versatile character. She's talented and deserves to be detective, but she never veers into being a superhero. She's flawed and down to earth, but never weak. In short, she's a character you can root for. Her interactions with the other characters – especially Mark Jameson, the forensic scientist – is snappy and entertaining. Moskwik has a talent for dialogue. Watching the evolution of Jameson and Swift's relationship is part of the fun of the book, and makes the plot arc all the more satisfying.
All told, Heart Break is a quick and entertaining read, and a promising start to a new series.
Links
Author Site
Amazon
Goodreads