★★★★½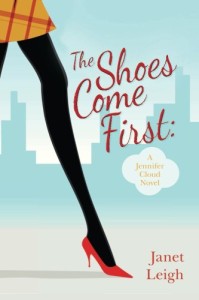 The Shoes Come First: A Jennifer Cloud Novel, by Janet Leigh, is a lighthearted and laugh out loud historical fantasy and romance.
In Sunnyside, Texas, Jennifer Cloud has the perfect job as assistant purchasing manager for an upscale shoe store. When her boss is arrested, Jennifer's world comes crashing down. She ends up working for her brother in his chiropractic office. Jennifer feels like she's the only one in her life who doesn't have ambition.
An unexpected birthday gift opens up a whole new world for Jennifer. This gift allows her to travel in time and during her travels, Jennifer learns that she has a passion for helping others. However, when her key is stolen by a villainous band of time travelers can she get it back? With the assistance of a quirky cast Jennifer is set on getting her key back. Will she succeed?
Janet Leigh doesn't go into a lot of specifics as to how her characters travel in time. And it's probably for the best. This is a whimsical story and bogging it down with science and rules would kill the mood. The reader shouldn't worry about the how and just enjoy the hilarious ride. Some stories are written just to entertain pure and simple. This is that type and if you can just go with the flow you'll love this novel.
Many of the characters are odd. Jennifer and her cousin Gertrude complement each other well. There are several hunks that whisk Jennifer off her feet and a few readers may swoon for the leading men as well. Even though there are several characters that have large roles in the novel, each has their own distinct personality.
Jake wanted his girlfriends dainty and with manners that would make Martha Stewart proud. I had the style, but my manners were all Chelsea Handler.
The characters and the writing are reminiscent of the screwball comedies from the thirties and forties. The author does an excellent job of keeping the story going, but she never loses sight of one thing: making the readers laugh to keep them engaged.
Janet Leigh ties in historical events that happened years ago with present day current events that will make some readers think. She's able to accomplish this by using a silly sense of humor. Some of the current events that she pokes fun at are sensitive topics, but her humor never comes across as insulting or preaching. She's just making light of things and in today's world filled with stress and obligations it feels good not to take everything so seriously all the time. The Shoes Come First will whisk you away and make you forget. More importantly it'll make you laugh, smile, and laugh some more.
The Shoes Come First is a hilarious and entertaining novel and it's a promising start to the Jennifer Cloud series. Let the author sweep you away through time and romance. More importantly, let her help you forget the seriousness of life for a few blissful hours.
Links
Author Site
Amazon
Goodreads