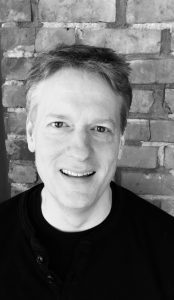 Tell us something about your book. The basics: what's it about?
It's a coming of age horror story set, mostly, after hours in Manhattan's SoHo during a heatwave in the summer of 1982. At 19, Tommy Santalesa is far too good looking and having too much of a good time to realize that's all about to change…for the worse. So when his lifelong friend, fellow band member and guitar virtuoso, Frank Balistrieri, vanishes on the eve of a lucrative record contract, Tommy figures he's run off with a wealthy but flaky girlfriend and dismisses it. However, when Anne-Marie the one girl immune to Tommy's charms calls him out as a lousy friend, he begins a search for Frank in the deserted, muggy August streets of Manhattan's SoHo.
When he does find Frank, who is wan and seems to be drained of life, he's in the clutches of a shadowy, malignant force, Tommy finds himself in an unexpected role—that of selfless rescuer. Matters are complicated by two factors. Firstly, every cop in New York City is looking for the guitarist for some reason. Secondly and more importantly, while Frank's up and moving, he doesn't seem to have a pulse, a condition that makes Tommy wonder if he can best serve his friend with a doctor or a wooden stake. One of my readers aptly noted that at its heart it's really a coming of age story about friendship that just happens to be set in the middle of a horror movie.
How did you come to self-publish? Did you try to get published traditionally?
What attracted me to self-publishing was the DIY approach. It's very organic and grass roots while being immediate. It's also very entrepreneurial. I like those things and that's why I went straight to self-publishing. I looked into going the traditional path, investigating agents and publishers. However, I really felt that my book didn't necessarily fit into the cookie-cutter mold of just one genre. I didn't want someone editing my work and modifying my story to fit with their company image.
What self-publishing service did you use? Happy with the service?
I went with CreateSpace/AmazonKDP and so far have been happy.
What avenues have you taken to market the book? Have you gotten reviews, interviews, TV, print media coverage?
I've submitted the book for reviews and been happily surprised to receive 4 stars. I've also sent the book out to some festivals. To date, I've gotten two honorable mentions. The first was for the 2015 New York Book Festival and the second was for the 2015 Hollywood Book Festival. I'm working towards expanding my presence online to garner more media attention and hopefully work in some radio and TV interviews along the way.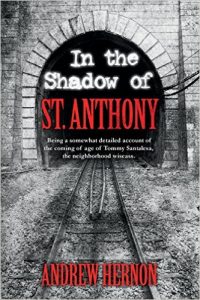 What drove you to write this particular book?
A love of New York City, history and horror, coupled with restlessness. Growing up as a kid in New York, there are certain things about the city that the average tourist or Midwestern transplant might not know or fully appreciate. The whole city was a very different place back then, and I really wanted to capture that. For the record, I really believe the city now is a friendlier and safer place, but there's a part of me that actually misses that less friendly and scary place. The area west of Sixth Avenue, where much of the story takes place, used to be called (depending which real estate broker you spoke to) either SoHo or the West Village. These days it's called Hudson Square and, like everywhere else in Manhattan, it's had a gentrified facelift. When I lived there in the 90's there was, at night, a really desolate and creepy vibe to it that took hold of my imagination.
Is the book in any one particular genre? Is it a genre that's familiar to you?
It's definitely a horror story; just not what you're used to seeing. It is a genre that I am familiar with, but I took a different route from the traditional way of telling the story.
Who are your greatest writing influences?
This novel is a cocktail of influences by the following: Ray Bradbury, Thomas Ligotti, Robert Bloch, Dashiell Hammet, H.P. Lovecraft, the under- appreciated Sax Rohmer, Paul Zindel, J.D. Salinger, and the great John Steinbeck.
What's your writing regimen? Any tips for keeping focused?
I read somewhere once that everybody wants to be a writer but nobody wants to write. There's a lot of truth to that. As for staying focused, I have no real tips other than you just have to do it. It sounds cliché, but it's true. I can overthink anything and I've found that the best thing I can do is stop thinking and just do whatever I need to be doing. I'm currently a stay at home dad who chases a two year old around all day, so my regime has changed quite a bit. These days I wake up before my daughter so I can squeeze in a half hour of writing a day. It seems to be working…just a bit slower.
Would you self-publish again?
Without hesitation, yes!
Any final words of advice for those looking to self-publish?
Do the research and the homework to find the right fit. Also, marketing is something I'm starting to learn more about, and the more I learn, I more I realize how important it is. Above all else, make sure you copyright your work.
Links
Amazon
Read SPR's Review of In the Shadow of St. Anthony