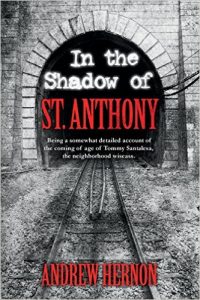 In the Shadow of St. Anthony: Being a somewhat detailed account of the coming of age of Tommy Santalesa, the neighborhood wiseass is a hybrid coming-of-age novel about being in a rock band in New York City – and a chilling horror novel.
The novel follows Tommy Santalesa, the untalented bassist of the band Fly Trap, who are on the brink of possible stardom. When Frank – his talented bandmate – is found with mysterious marks on his neck, Tommy must face this supernatural force and save his friend. The book is an impressive blend of horror, character development, period detail, and even some romance, making it a more literary and well-rounded entry into the horror genre.
The book reads like a period movie. Taking place over thirty years back, you can almost hear the soundtrack of early 80s metal being played while you read. Writing about music is not easy (like "dancing about architecture" as they say), and writing about playing in a band can come off as false and forced. Not so in this novel. Hernon writes sardonically and accurately about playing in an up-and-coming band. The NYC setting is fun and evocative. It's downtown New York before it was overrun with boutiques and expensive restaurants, i.e. more rock and roll.
Character in this novel is a force all its own as well. In horror fiction, characters can often devolve into caricatures, mere springboards for the action. This is hardly the case with St. Anthony, as each character is fully realized – especially Tommy, who begins as a blowhard and reaches a new level of maturity in the face of a terrifying evil. The horror is nightmare-inducing. Literally, sleepless nights followed reading this novel, which should be high praise for horror fanatics.
If there's a problem with the novel it's that the balance between horror and character development is not perfectly matched. Hernon seems a bit unsure of what to emphasize – character or story – without seamlessly weaving them together. Just as you're getting entwined in one character's story and arc, it switches to another with a fair amount of extemporaneous detail. At times, the story exists  in a kind of no man's land. That may be too strong of a descriptor, but the novel is not fully literary or a genre work, it's a hybrid. In many cases, that can be its selling point, but in St. Anthony the pacing of the narrative is a bit off.
This issue with pacing isn't a dealbreaker because of Hernon's aptitude as a writer; he really knows how to turn a phrase. So where the plot is not fully ingrained, the eloquence of the writing pulls it forward. Hernon's characters are vibrant and interesting, and fully alive the way the best writing can be. This is the kind of novel where you root for the writer as well as the characters. You just want to see what sort of prose he comes up with next.
So pacing issues aside, In the Shadow of St. Anthony is successful as both a coming of age story and a horror novel, and should satisfy readers of both genre and literary fiction. Hernon took a chance combining so many disparate motifs together, but the end result works exceptionally well.
Links
Createspace
Amazon
Goodreads