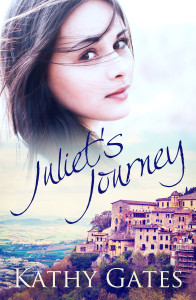 Juliet's Journey by Kathy Gates is a delightful and comforting novella about traveling outside your country and your comfort zone. Juliet is a thirty-year-old graphic designer who decides to volunteer at an art school in the tiny village of Baiardo (a real place, the pictures of Baiardo are astounding). As sometimes can only happen in an exotic locale, Juliet learns to open up and be more comfortable with herself and her past.
The journey is one for the reader as well. Some books are beach reads because they're page turners that quickly pass the time. Juliet's Journey is like a vacation in itself. As Gates has visited the locales in this short book, scenic detail abounds in the novella. You can smell and feel the landscape with each page. Most of us won't have the chance to take a course at an art college in the hills of Italy, so Juliet's Journey is a relaxing substitute.
At only 14,000 words, this is a very short book, but then vacations aren't very long either, while they still be very satisfying. Juliet's Journey is a serene and quiet read. She has her struggles, including a real estate issue with her ex, which threatens the character of the village, but given her location, her journey is a comforting one. As such, the novella is a good bet for anyone who likes a good travelogue mixed with elements of romance.