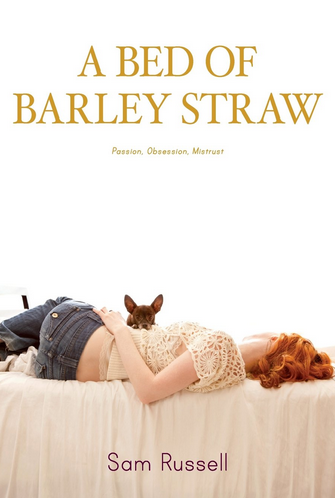 A Bed of Barley Straw: Volume 1 of the Draymere Hall Series, by Sam Russell, delves into her characters' minds exposing their innermost thoughts, fears, and desires.
Hettie Redfern tends the stables of Lord Melton's English estate. A traumatic relationship left her scarred and mistrustful of men.
Alexander Melton, the middle brother, returns home after serving in Afghanistan. His rocky relationship with his mother has turned him into a mistrustful and jealous man.
When their worlds collide, there are sparks. But will it lead to romance or destruction?
Alexander is a tough nut to crack, and even harder to like most of the time. At times he can be sweet, but when he's being a jerk, he goes above and beyond. It's difficult having a character like Alexander in a story. Often he's frustrating, but the author handles him well and as much as he's unlikable and hypocritical it's hard not to hope he'll see the error of his ways. Romance fans who love irascible characters will find Russell's novel quite intriguing. Hettie is more likable, but it's obvious she's holding back her true self, which is simultaneously frustrating and curious. Both are flawed characters, and it's their flaws that frame the story.
This book isn't the typical romance that places humorous roadblocks in the lovers' path, keeping the suspense of will they get their act together and live happily ever after. At times, it's hard to cheer for them to be together since even before they move in the direction of being more than acquaintances they're highly dysfunctional.  Simple interactions turn into contentious arguments with hurtful rebukes that leave a lasting impact on the characters and reader.
A Bed of Barley Straw revolves around a pivotal thought: can Alexander and Hettie recover from the traumas of their childhoods? While both of their experiences were vastly different, each one is tarnished and filled with dread about letting others into their inner circle. Their internal conflict is the crux of their lives and future. Their struggles thrust the reader further and further into their world and minds. The reader may or may not be cheering for them to end up together, but it's hard to cheer against either one finding their way in life. Both are in desperate need for internal peace or they'll never reach their full potential as adults.
The intense scrutiny of the characters is the strongest aspect of the novel, but the continual head hopping can be distracting. Russell even pops into the heads of minor characters without any advance warning and it jolts the reader out of the story on occasion.
While the characters can be difficult to love, the setting pulls the reader in and many may find themselves daydreaming about riding horses on the estate or along the beach and then afterwards heading to the local pub for a pint.
A Bed of Barley Straw is a captivating and intense character study. It should be noted, that the author ends the first book of the series at a key turning point. This move will frustrate some, but many more may pounce on the next book in the series to see what's going to happen next.
Links
Russell Romance
Amazon
Goodreads