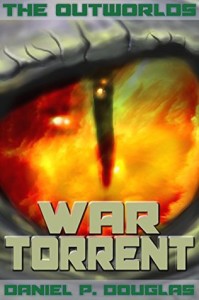 Set in an alternate time-line of the 24th century, humanity's reach has extended far beyond Earth, into the deep recesses of space in search of resources, colonization, and the hope of extra-terrestrial intelligent life. Unexpectedly, all three are achieved, to some extent. On the fringe of colonization, a world is discovered with the first recorded alien settlement, known as Mokisia. Research shows that it was at one point populated by a complex reptilian race known as the Angorgal. While apparently long-extinct, signs point to these creatures having made contact with Earth long ago, to unknown ends.
In The Outworlds: War Torrent by Daniel P. Douglas, the first installment of The Outworlds series, we follow one of these ancient Angorgals in an long-waged battle for survival: Zyvolz K'olt, a young member of the Mokisiaans, dreams of troubling scenes and strange images. When a rival sub-sect known as the Sekkalans break the people's shaky peace, "Zy" becomes embroiled in a plot far greater than he could have ever imagined, but everything he dreamed.
When plans for a genetic purification of the galaxy becomes clear – the planet eventually known to humans as "Earth" as one target of many – ancient humanity comes to know a hero that shall be forgotten for centuries to come.
War Torrent is a decidedly odd book, not in that it is strange or confusing as a book, but in that it takes many classic and well-trodden science-fiction elements and tropes and somehow forges them together into something that, if not new, still stands unique.
Author Douglas expresses that his work focuses on unconventional heroes, with "epic stories" headed by "unlikely heroes", and he delivers solidly on that promise here: War Torrent stars the kind of young, unassuming, but brave lad common to every fantasy bookshelf in the modern world, but twists the prophecies and destinies and dark forces in with a space-faring background and a race that, while sharing many human features, remains just inhuman enough to remain intriguing.
While the concept of a humanoid alien race as being extremely like Earth's humanity is often yawn-inducing, somehow the familiar culture and even biology of the reptilian people remains just unusual enough and just thoughtful enough to be interesting without being confusing or so alien it becomes hard to identify with. The plot, in all, seems to be almost nothing special in theory, but on paper (or screen) shines in uncommon ways.
In general, the book is well-written, happy to keep a brisk pace and not being afraid to push the plot along to keep a reasonable page-count on what is essentially side-fiction to a much bigger work. That isn't to say that the book is lacking in comparison, as the book is full of attentive detail. As is, the book is as long as it needs to be, and is worth the comparatively lower length of time needed to get from cover to cover.
The book is said to be part of an alternate timeline even to the main Outworlds series to come, which, according to the handily-included extract at the back of this installment, is focused on latter-day humanity rather than alien life. Two extracts of other work by the author are included for any curious readers.
Links
Author Website
Amazon
Goodreads