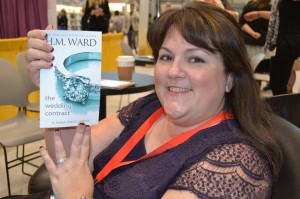 Dominating the emerging female-written new-adult genre, H. M. Ward is the best-selling author of The Ferro Family saga – notably the Damaged series, as well as The Arrangement series, The Proposition series, and The Wedding Contract. Her books have quickly taken the market by storm, accruing a strong readership and a devoted fanbase that have even gone as far as to begin a campaign for a film adaptation of her Ferro Family titles without provocation by the author herself (although greatly supported by her through interaction and exposure on social media and personal website).
Most impressive is that she has achieved this as an entirely independent creator and publisher, now owning and operating her own company, H.M. Ward Press, taking a strong stance for Indie press to the point of having since turned down a traditional book deal of over a million dollars. Recently, she has produced content at a staggering rate, publishing six titles in past six months, totaling over 60 titles since her debut in 2011.
What books has she written?
Her most famous work is the Ferro Family saga, which encapsulates several series within the over-arching plot. Her hit title of the saga was Damaged, which soon spawned a sequel, Damaged 2, and several further stories under their own series names: The Arrangement, The Proposition, Life Before Damaged, Secrets & Lies, and The Wedding Contract.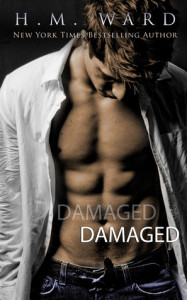 Damaged is the story of Sidney, a young woman in the biggest pit and dry spell of her life, when the guy from her disastrous blind date the night before turns out to be the teacher the next day. The Ferro Family is a collection of similarly-themed stories and the Ferro family's handsome strangers collected together.
Several works have been "threaded into" this overall story despite originally being written separately. Some of the uniquely separate works include the supernatural-romance Demon-Kissed series and the more humanistic Trystan Scott books, as well as many non-serialized titles.
The Success Story
H.M. Ward began self-publishing in 2011 when she realized that she didn't find that regular publishing suited her and her work. Starting in the supernatural/paranormal romance genre, she moved into more traditional romance with Secrets and Scandalous in 2012. After making a change to the covers, and noticing the missing formula for being noticed was in the presentation, Scandalous hit the New York best-seller's list nine months after release. Her quick success coincided well with the release of Damaged, which spurred Ward to continue writing.
With her marketing savvy, Ward's interaction with her fans, wise use of Audiobook conversions, and successful events and giveaways lead to a booming career that continues today.
How many books has she sold?
Since her debut in 2011, H.M. Ward has reportedly sold over 10 million books, reaching the #1 spot with The New York Times, Wall Street Journal, USA Today, and Amazon, and has hovered in the New York Times best-sellers' list with 18 different titles.
Her author website can be found at SexyAwesomeBooks.com