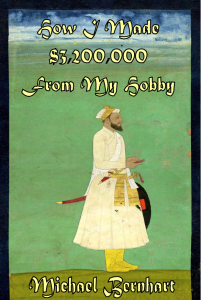 Don't let the title fool you: this isn't non-fiction, you won't find any get rich quick schemes here. But it does speak to how Bernhart's lead character, the regally-named Maxwell Smythe Brown IV, doesn't take much of anything very seriously. A funny and engaging voice, Brown has a very good knack for getting himself into trouble. He's a pretty dynamic guy: a professor, an Air Force pilot, married to a difficult but beautiful student. And then Brown's life takes a turn for the fantastic: a collector of antiquarian maps, he learns the location of a treasure from the 17th century Mughal dynasty.
Brown is kind of a smart-ass Indiana Jones. The difference with Indiana Jones is that Jones is an esteemed professor of archaeology, and Brown…not so much. Like "Raiders," Brown has heavies hot on his trail – in his case, members of the Indian intelligence service, which raises the prospect of danger significantly.
One only has to look at Bernhart's own bio to see the spirit of the book:
Michael Bernhart is an award-winning author (none of the awards for writing, alas) who has published extensively on international development and healthcare quality. This book is his first foray into fiction (although several funding proposals skirted the boundary).
There are amusing quips throughout the novel. Brown's got an incisive opinion about almost everybody, including himself. Unfortunately, the cover doesn't really do the quality of the writing justice. You could argue that given the protagonist doesn't take himself very seriously, the cover is a reflection of that. However, it's a step too far, which is a shame because How I Made $3,200,000 from My Hobby is a sharp, witty debut from a deeply talented and engaging humorist.