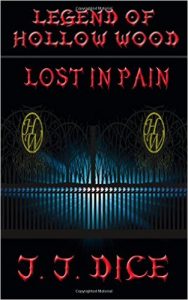 Lost in Pain: Legend of Hollow Wood Book 1, by J. J. Dice, is an exhilarating fantasy adventure that pits good versus evil.
Jack wakes up in an alley standing over a dead body. That's just the beginning of his troubles. The body suddenly disappears and Jack can't remember anything, including who he is. He befriends a waitress and learns that his uncle is wealthy. He experiences visions that are truly terrifying and alert him that not only is he in grave danger, but so is his new friend.
Evil warlock Teiwaz has escaped from the realm of Farion in search of a man, foretold by the spirits, who has the ability to destroy him. Tei is on the hunt for his powerful nemesis. Can Jack protect the ones he loves?
The battle between good versus evil is not new. Yet, it's an effective framework for fantasy stories. Readers love to cheer for the valiant underdog, especially when the odds are stacked against him. It makes for exciting reading that keeps you on the edge of your seat.
Once the action gets going in Lost in Pain, twists and turns abound. However, it takes time for the action to start. The first half of the book concentrates on Jack's budding romance with Jessi, the waitress he meets when he loses his memory. Their attraction and love is instantaneous. Actually, that's all that really matters in the beginning. Jack can't remember anything that happened in his life before the alley and he keeps experiencing horrifying visions that would drive most insane, but he only focuses on Jessi and never considers seeing a doctor or anything. Jessi ignores some disturbing aspects about Jack, such as he relishes devouring raw meat and when he does, his appearance changes. It's a bit hard for the reader to believe that neither seeks answers to all the weirdness around them.
Dice doesn't attempt to explain much until the action gets going. More clues and back story in the beginning would enhance the overall tale. However, once the looming battle between Tei and Jack heats up, it's easy to overlook that the details haven't been provided. It transforms into a thrilling read that keeps you turning the pages. The lingering questions are quickly replaced with concern for Jack's survival, and ultimately, the survival of humanity.
And the twists and turns become more and more intense. At times it seems impossible for Jack to engineer a way out of a dangerous situation. That's part of the fun. The crazier the story becomes the better. In order for Jack to become the ultimate hero, he must undergo great challenges.
The author has an incredible imagination and it's this ability that makes this novel work. Dice does end with a whopper of a cliffhanger and hopefully his fans won't have to wait too long for the next installment in the Legend of Hollow Wood series. The first book will appeal to readers who enjoy a love story, action-packed scenes, and the classic, but effective, battle between good and evil.
Links
J.J. Dice.com
Amazon
Goodreads