★★★★½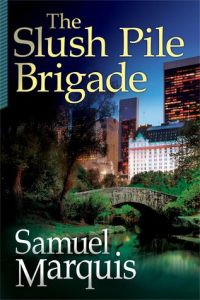 The Slush Pile Brigade, by Samuel Marquis, is a hilarious and exciting read filled with one crazy turn after another.
Nick Lassiter has just turned thirty and he's in some serious trouble. His girlfriend has dumped him. He lost his job. He's wanted by the police. And he discovers that his unpublished thriller has been stolen and turned into a blockbuster movie.
If that's not bad enough, the author who stole his idea is Cameron Beckett, one of the biggest brand name authors.
Nick doesn't want revenge. He wants a simple apology. When he and three friends show up in New York City, things quickly fall apart. All Nick wanted was an apology. But can he and the slush pile brigade escape New York with their lives?
The Slush Pile Brigade is not short on interesting story developments. The author has crammed in many topics including: traditional publishing, self-publishing, writers, agents, the CIA, Russian mobsters, eccentric friends, crooked cops, a rekindled romance, and a whole lot of fun. It sounds like a lot, and it is, but all of these moving components help maintain the momentum of this madcap caper.
Even though there's one unbelievable twist after another, the zany plot developments work for the simple fact that the author is completely aware that the story is absurd. It's wonderful that Marquis isn't afraid to own up to his overarching goal, which is to amuse the reader from beginning to end.
Marquis is brilliant and bold by not writing a highbrow thriller. Instead, the mixture of silly humor, high jinks, and wacky characters will have the reader laughing, forgetting or not caring that the story is completely outlandish. This approach makes the absurdness not only palatable, but it heightens reader engagement. It's hard not to think, "What's he going to come up with next?" This question and the next shocking development keep the excitement alive. More importantly, it keeps the reader either smiling or laughing out loud.
The pages are filled with quirky characters, but this novel is driven by the twists and turns, and at times, the characters feel a bit flat and it's difficult to connect with them, especially the supporting cast. On one hand, the supporting characters provide much comedy. On the other, it's really hard to connect to them since they are almost solely used for their comedic value.
Albeit, most readers might not even notice the lack of character development because they're too engrossed in the fast-paced action. The author slams on the accelerator early in the story and doesn't let up, forcing the reader to flip the pages frantically. And once it's over, it's still hard to catch one's breath.
The Slush Pile Brigade will appeal to readers who enjoy action and adventure with heavy doses of silly humor and far-fetched scenarios. If you're looking for plausible and realistic, this isn't the book for you. However, if you want to check reality at the door and slip into a screwball thriller that will make your sides hurt from laughing, look no further.
Links
Samuel Marquis Books.com
Amazon
Goodreads