Tell us something about your book. The basics: what's it about?
Insane-O-Tron is a collection of six short stories that take the reader into an absurd and surreal world of talking haircuts, time travel, earwigs, drunk-hunting, R rated family television, and that's just the start. This book is like riding a roller coaster in the dark without a safety harness. You will never guess the next twist, turn or moment you'll be flung from the ride into the unknown.
How did you come to self-publish? Did you try to get published traditionally?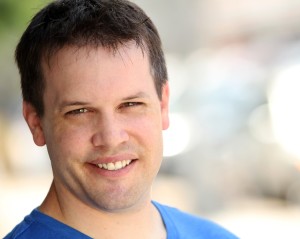 I made a feeble attempt to get traditionally published. I sent out some query letters but got no response. I didn't really try that hard. I've always been more interested in just doing things myself, this way I own the results, good or bad, and that's why I decided to self publish. I'm glad I did because now Insane-O-Tron is out there and I'm not sitting at home wondering if anyone is going to answer my mediocre query letter.
What self-publishing service did you use? Happy with the service?
I used Book Baby. They were awesome. Once I had my book formatted and my cover art completed it was really easy to simply upload everything to Book Baby and they did the rest.
What avenues have you taken to market the book? Have you gotten reviews, interviews, TV, print media coverage?
This has by far been the hardest part of self publishing. I've created a website for myself as well as an author page on Facebook. I'm on Twitter, Goodreads and I have an Amazon Author Page. I use a site called Bublish which allows me to send out small snippets of my book via Facebook and Twitter. I've been reviewed by Reader's Favorite, Self Publishing Review and my Kirkus Review is in the works. Count this as my first interview. I haven't done any TV or print yet but I'll be exploring every avenue possible. Marketing is so much harder than I expected. I'm learning as I go. I'm up for the challenge.
What drove you to write this particular book?
I have a crazy imagination. I love to tell stories. I love to make people laugh. I started writing these stories ten years ago just as a way to get these crazy ideas out of my head. I've always been creative, so this became a great way to express that creativity.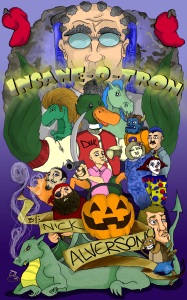 Is the book in any one particular genre? Is it a genre that's familiar to you?
When I started writing these stories I had no idea what genre they would be in because they are all so unique and borrow from all kinds of different genres. Overall they can be considered absurd, but there are elements of Sci-Fi, action, adventure, comedy, romance, drama all mixed into the sauce.
Who are your greatest writing influences?
Stephen King. That sounds weird if you look at what he writes and what I write. I've tried to emulate the way he writes not what he writes. The way King can build a story until it becomes this fast paced back and forth that keeps you turning the page as fast as you can read it is the thing I've tried to add into my own writing. If I can be even a fraction as good as him I'll consider myself lucky.
What's your writing regimen? Any tips for keeping focused?
Like 99% percent of most self published authors I have a day job so my writing doesn't start until the afternoon. I usually write for about two hours a day. That seems to be my limit before I need a break. On the weekends I sit down with a cup of coffee and write in the morning. I always tell myself that nothing will get written until I write it. It sounds obvious but wishing and hoping something will get written isn't going to get it done. That's how I stay focused. Even on the days where I'm not feeling particularly creative I still sit and write because you never know what you're going to get.
I do also take the time to imagine all the good things that can come from my writing. I know I said wishing and hoping won't get it done but we all have to have a little hope.
Would you self-publish again?
Yes, at least until the seven-figure book deal comes my way.
Any final words of advice for those looking to self-publish?
Writing a book and publishing it is a lot of hard work. Never, ever give up. I stopped writing my book so many times but I always came back to it. I'm glad that I did. I've heard people say that self publishing is a marathon not a sprint. I think that's correct. Just stick with it, don't listen to any of the naysayers, write for yourself, believe you can do it and have fun.
Links
NickAlverson.com
Insane-O-Tron on Amazon
Twitter
Facebook