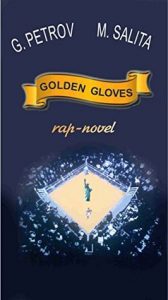 Golden Gloves: rap-novel is one of the most unique reading experiences you'll have. Written in rhyming verse, it tells the story of a Jewish immigrant from Odessa who wins a Golden Gloves boxing tournament. The book covers heady issues such as anti-Semitism, immigration, poverty, and the cut-throat world of amateur boxing.
A novel in verse could potentially get tedious, but Golden Gloves flows evenly. Another potential problem is that it could seem childlike, as rhyming verse is most commonly associated with children's books. Because of the themes present, and the cadence of the prose, neither of these issues is an overwhelming problem. Impressively, the novel was translated from Russian, and the book still manages to rhyme effectively.
At times, the rhyming is a bit off, but that also helps the cadence to steer away from becoming monotonous with the same rhythm every sentence. It doesn't always work, and the book sometimes veers into a simplistic rhyming structure, but the subject matter helps elevate these lesser moments. All that said, the book would likely come alive more to see it performed.
In all, Golden Gloves is an innovative and daring experiment in prose writing. Given that rap is most commonly associated with the African-American experience, the novel is taking chances on two fronts. The book has its flaws, but this is outweighed by its spirit and ambition.

Links
Amazon
Goodreads