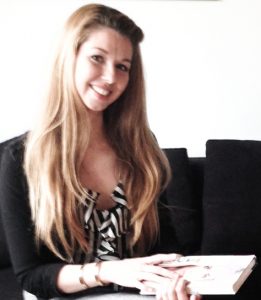 Tell us something about your book. The basics: what's it about?
You always read teen novels or watch movies where the shy underdog of a girl becomes popular and in the end "gets the guy" and then allegedly has everything and lives "happily ever after" – and the popular girl is often just the mean girl. I thought it would be fun to turn it around and write a book from the most popular girl's point of view and her struggles in life as popularity in real life is far from a "happily ever after scenario". To my mind, the world is not just black and white like that.
How did you come to self-publish? Did you try to get published traditionally?
I love the freedom and challenge of being an independent author and publisher doing everything myself just the way I prefer it and with a twist!
That being said, it requires the ability to "kill your darlings", use your social network, get insight into the online book industry, understand your readers and remember to hire the right people for things like editing, cover design, ePub/mobi-conversions, marketing, PR etc. if you are serious about your book and your writing.
What self-publishing service did you use? Happy with the service?
I use Book Baby and it has helped me a lot as a new author getting an overview of some of the available options to get noticed out there for indie authors like myself!
What avenues have you taken to market the book? Have you gotten reviews, interviews, TV, print media coverage?
Currently, I have about 1.200 followers on my Instagram (AnyaValentino) and 300 on the Facebook Page of  'Misunderstood Secrets of a Teen Queen'
I only just started using Twitter a few months ago, so I'm still trying to get the word out there, however, I have gotten about 10 reviews, hereof 5 professional reviews, 4 book blurbs and 4 interviews including this one.
You can read my latest interviews and reviews in the news posts on my website anyavalentino.com
. Also, check you my Goodreads for more reviews of my novel here, add my book to your bookshelf and please do not hesitate to ask me a direct question here.
What drove you to write this particular book?
As a Danish-American getting more and more embedded in both cultures with friends and family across both sides of the Atlantic, I wanted to create a protagonist representing values and characteristic from both counties.
The story underlines the irony of how the glamorous lifestyle "on the cover" and "in the spotlight" within the entertainment industry is perceived as the ultimate happiness in life in the States and especially in Los Angeles versus in Denmark where having a family, a stable job, a nice house (not necessarily big), and vacationing together are all many Danish people live for (which might be the reason that Denmark is often rated the happiest country in the world).
The novel gives the reader an insight into Teen Queen and Fashionista, Enya Utzon's allegedly perfect life having the reader experience being popular and living in a big mansion in Bel Air, go to all those upscale events in LA surrounded by celebrities and travel exciting places in the world but at heart longing for a more simple lifestyle and true love. It is up to the readers to make up their own mind as to what leads to true happiness in life – and does the protagonist, Enya Utzon, really have the recipe?
Is the book in any one particular genre? Is it a genre that's familiar to you?
'Misunderstood – Secrets of a Teen Queen' is categorized within the Young Adult Fiction/Coming-of-age/ChickLit genre. It is my first published novel, so in that sense I don't have experience with any other genres.
Who are your greatest writing influences?
It is hard to narrow my inspiration down to individual writers. However, I do feel inspired by writers like Paulo Coelho, Jostein Gaarder, Sophie Kinsella and James Redfield.
However, when it comes to my own writing, I get inspired by life experiences, people I meet, places I travel putting things into different life perspectives and scenarios and that is what it is really about for me – not so much trying to box things!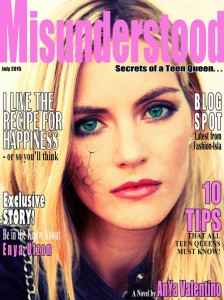 What's your writing regimen? Any tips for keeping focused?
I write when I feel inspired or when I simply have time. As I have a busy lifestyle with a husband, two adorable baby twins, a house, many friends, working as loyalty consultant, hosting social events and dinner parties, I sometimes just have to sit down and write whatever comes to my mind when I can. Sometimes that means I only have like 5-10 minutes, but I use what I can get and appreciate that I get to do what I love. Other times I wake up in the middle of the night and simply have to just get up and write!
My advice for writing and staying focused would be just to sit down and write something – anything- and see were it takes you or go for a walk if you lack inspiration!
Would you self-publish again?
Definitely!
Any final words of advice for those looking to self-publish?
My advice for other aspiring self-publishers would be to take the leap only if they're willing to put the work and time into what it takes getting insight into the online, global book market. Don't be afraid to give away your book to independent bloggers, interact on social media and make sure you're seen and noticed in the right places/media to meet your readers where they are (as long as you're unknown no one is coming to you) – and then just take it one step at a time!