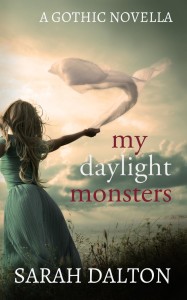 My Daylight Monsters is the prequel novella to Sarah Dalton's Young Adult Mary Hades series. Though the book is called a prequel, Dalton recommends in the beginning of the book to start with this short work, and it establishes Mary Hades as a riveting, exciting, and sensitive young adult heroine.
My Daylight Monsters finds 17-year-old Mary Hades being institutionalized after having "visions" of zombies and skull-headed monsters. As she's in a mental institution, there's always a nagging sense that Mary might actually be crazy – to the reader, and to Mary herself. Woven into this narrative are an interesting cast of other patients. Dalton's strength as a writer is the great sympathy she has for all her characters, making them more real and Mary's visions more terrifying.
When she discovers mysterious deaths occurring in the hospital, Mary must come to terms with her gifts, overcome her fears, and survive a startling climax. She's the kind of character – and Dalton is the kind of writer – where you definitely want to read the next book in the series. If there's a weakness, it's that there's not enough ghost interaction to start, but that does increase the story's realism.
This is self-publishing done right. Scratch that, this is YA Gothic Horror done right. Sarah Dalton and the Mary Hades series deserve to be very successful.