★★★½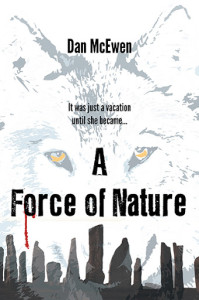 A Force of Nature by Dan McEwen follows Canadian PR superstar, Claire Chandler, as she takes a long weekend in idyllic Bay Harbour. There she meets a number of mysterious and colorful characters. Most mysteriously, she's shadowed by a ghostly white wolf and the victims of a murder, and she'll soon solve a decades-old mystery, as well as get into a romantic tryst with enigmatic pilot and treasure-hunter, Tom Katz.
A Force of Nature is the type of book that works on a sentence by sentence level – McEwen is an interesting, eloquent writer who clearly loves his subject – but the arc of the entire novel is less effectively drawn. There is great evocative detail about the Canadian wilderness, and all the rough-hewn characters who choose to live in the wilds of nature. This seems like the story McEwen wants to tell most – not a supernatural tale, but a tale of people living in the Canadian outback. His author photo of him on a lake suggests this to be the case.
The main trouble is that McEwen's lead character doesn't reveal any supernatural ability until late into the book. In the first half of the novel, she's a hardworking career woman, until she goes out into the wild and activates some latent psychic ability. This is somewhat the point – the wild brings out the wild within her – but her ability is so dormant that it seems the work of two separate characters. Even if it's the case that she wanted her abilities to be dormant because they caused her problems in childhood, it still does not explain her ignoring them entirely. She needed to have some inkling of these abilities in the early part of the book – perhaps fighting them off, a potentially interesting dynamic. It would give more depth to her character.
Otherwise, a lot of time is spent in the early part of the book talking about interoffice politics, which doesn't seem entirely necessary to the arc of the plot. If she was secretly psychic the whole time, these descriptions of office dynamics would be more illuminating and engaging. Likewise, McEwen stays too long on the ins and outs of the tourism trade in a similar way to the corporate PR world. They may be interesting details on their own, but they don't quite propel the story forward.
So the novel exists in a bit of no man's land. It promise to be "Part ghost story, part treasure hunt, part romance," but it only really touches on the three. Just because there's a romantic entanglement in the book doesn't qualify it as "a romance." There are many fun elements to the story, it's just that there are so many slow moments that it loses a fair bit of momentum.
There is a good book in here. The prose is certainly clean and well-constructed, and McEwen is an erudite and enthusiastic writer. But certain parts needed to be fleshed out, while certain parts needed to be cut for the novel to be as entertaining as its premise.