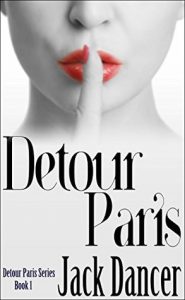 Detour Paris, by Jack Dancer, is a laugh-out-loud romance with a dollop of intrigue.
When Tucker Blue meets Monica Reyes there's a spark. Tucker has recently reentered the dating world and he's discovering that the life of a mid-life bachelor is equally exciting and complicated. He's about to fly to Barcelona with Ebba, his flight attendant girlfriend. However, a last minute passenger kicks Tucker off the plane and now he and Monica are stranded together in the US.
Tucker concocts a crazy idea of catching a flight to London and then taking trains to Barcelona. Even though his girlfriend is waiting for him in Barcelona, Tucker can't deny his attraction to Monica and he's not shy about his desires.
Travel, though, always presents difficulties. Tucker's hope for a romantic adventure through scenic France is beset with one problem after another.
Detour Paris, the first book in the trilogy, definitely ticks all the right boxes. It's funny, sexy, packed with adventure and mishaps, and there's a subplot that is suspenseful and keeps the reader glued to the pages.
Tucker's mission to seduce Monica may not appeal to all readers. Yet, the author handles the subject matter well, making it palatable to most. Tucker isn't the typical dashing and debonair main character one meets in romantic suspense novels. He's older, a tad awkward, quite funny, and flawed, refreshingly so.
"I've not only been around the block more than once; I've been kicked around the block, a couple of times. Been married more than once, raised children, more than one. Even created businesses. Destroyed 'em too."
Tucker can be crude and endearing in equal measure. He's an original character with a typical male desire. At times he can be frustrating when he thinks things like this:
"Still, these are only words; women say them all the time. They're simply meant to project some illusion of propriety but what they really mean is: keep working on it; I'll eventually give in."
What helps the reader like Tucker is his sense of humor. He delivers one great line after another and his love interest, Monica, holds her own and dishes it right back. Their repartee keeps the reader coming back for more. Even though Tucker seems controlled by sexual cravings, surprisingly he doesn't come off completely as a jerk. Actually, there are moments when he seems like a nice guy.
The sexual tension and scenarios will keep the interest of many readers. I won't say if Tucker succeeds completely in his mission to sleep with Monica, but I will say that many of the scenes are smoking hot. The pages are filled with humorous romps that will get the reader's heart pumping.
The ending is abrupt with little resolution. This is a gamble since some readers don't take to such drastic and deliberate cliffhangers. However, it's a great way to encourage readers to pick up the next book in the series and it's hard to imagine many will be able to resist.
Detour Paris has a lot going for it. The story is fast-paced, sexy, entertaining, and intriguing. Highly recommended.
Links
Jack Dancer.com
Amazon
Goodreads