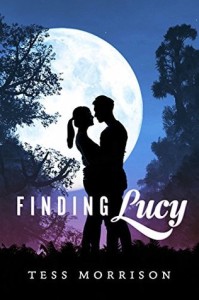 Finding Lucy by Tess Morrison is a really delicious read for lovers of romance with a spark of something different – packaged beautifully with a pretty cover. I'm always a fan of a full moon in a design, and here the moon reflects the fact that the book centers around the aptly-named Moonlight Bay Camp For Kids in Butternut Creek, and one of its counselors, Lucy Mitchell.
Lucy has been working at the Camp for a very long time, and when Ian Flynn turns up with his macho ideas and city tastes, all she can think of is how to get rid of him before he ruins everything she's worked for most of her life.
I suppose some would think Lucy is a little small-minded, getting in a tizz as soon as the Camp she works at is threatened with change, but then that's the conflict of the story, and to Morrison's credit she keeps Lucy fighting the premise for as long as she can with great aplomb. It's obvious that Morrison weaves in the beauty of North Wisconsin, her home turf, and this really works for her story too. I felt I was in a woodsy, vast, lakeside area pretty immediately, and not through the descriptions of the land but by the way the characters speak.
The one aspect of this story that doesn't quite get full billing is the story of Lucy and Ian. As the book goes on, we hear about the supporting characters more, and this cuts down page-time for our main plot arc. However, this adds to the small-town nature of the book's setting as well, and opens up the story for future reads with some of the characters mentioned. Finding Lucy is tinged with loss, sadness, and a dry edge of bad language in an unusually-set odd couple romance that's bound to have fans running a gamut of emotions before the finale, and you will feel you've made new friends by the end of it.
There are issues with the book's presentation. It really needs another pass with a proofreader to catch all the errors, even starting to surface on the first page. This is a shame because it feels like the author has put a lot of effort into this work, and maybe has been let down by the editor chosen somewhat here, who seems to have unfinished business with this manuscript. There is some room for a line edit too, as some sentences are worded awkwardly, and deserve a more communicable outing.
Having said that, the writing is vigorous and full of life, and Morrison captures each character's quirks swiftly and with humor to create magnetic players for the reader to enjoy. It would be lovely to see a series here, and hopefully that is planned, as this book is labeled as "Number One" in a series. Morrison has a talent that can progress in coming books with more attention to detail to make these books really shine as something for romance fans to grab for a time-light and refreshing read.
Links
TessMorrison.com
Amazon
Goodreads