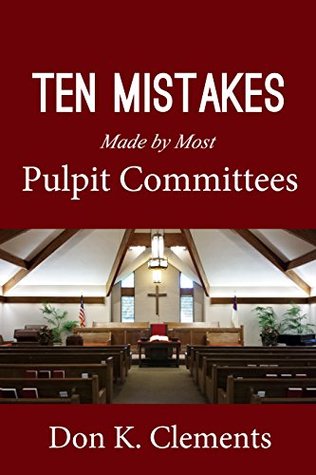 Among the most important decisions that any church body must make, choosing the correct pastor is of the utmost consequence.  Jeremiah 3:15 states:  "I will give you shepherds after my own heart, who will lead you with knowledge and understanding."  In a nutshell, this is the role of the pastor today.  The pastor is the leader of the church, the one who will direct the flock in the way it should go.  He provides encouragement and guidance and is entrusted with the most imperative of duties.  He must study The Word to discern God's heart and instruct his congregation.  There is no one who bears a greater burden in their faith (James 3:1), and no one who has greater influence on the direction of the church's ministry.
Dedicated prayer should be undertaken to discern God's will in such a vital decision as selecting a pastor, and God will surely guide the hand of the congregation.  But God also expects us to be diligent stewards of the faith.  As with anything in life, God will not abandon us to our own devices, but he does expect us to be active and wise in our faith.  We must do our part.  That is where Don Clements' congregational help book comes in.  To make wise and discerning choices while following God's will, we should be good stewards of the search.  Ten Mistakes Made by Most Pulpit Committees addresses the role of the church and its leaders in the process of finding a pastor, while pointing out the various pitfalls that can be encountered in such a process.
Clements has written to a specific niche, but he covers his topic well.  Clearly, he has spent years learning what methods are most effective in a pulpit search.  His company, Metokos Ministries, has aided many churches in this capacity.  The target audience (church elders, deacons, etc.) should find the information in Ten Mistakes to be largely helpful.
As far as presentation is concerned, Clements' writing is clear, concise, and accessible.  It is a refreshing example of an author who can write simply, using direct language, in order to be easily understood.  Clements' use of personal anecdotes adds a personal touch to the advice he dispenses and allows for better comprehension.  Ethical concerns, confidentiality principles, guidelines for interviews, appendixes of useful information, and many other features are considered as well.  Clements' book is encompassing; there is little related to his subject that is omitted.
There are two concerns that readers might consider.  One, while Clements is a wealth of helpful, practical information, Ten Mistakes seemed to contain a rather large amount of bureaucracy to discern God's will.  The second issue is that very little scripture was used to support the advice.  I would caution pulpit committee members to not lose sight of who ultimately has control of the situation instead of depending on well-prepared procedures alone.
The bottom line for Ten Mistakes, however, is that it is an indispensable resource for churches undergoing the search for a spiritual leader.  The writing and presentation is solid.  The information offered is well researched.  Almost everything needed is right here within this book.  Clements brings vital experience and clear passion to a crucial process.