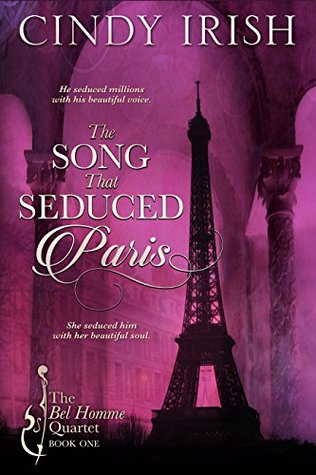 The Song That Seduced Paris (The Bel Homme Quartet Book 1), by Cindy Irish, is a sexy, stylish, and heartwarming romance.
Teddy Wilson, an American music mogul, knows what it takes to be successful. When he enlists four gorgeous male singers, combining opera and pop, he believes the group will be a worldwide phenomenon.
Gabriel Grenier is an accomplished French singer and celebrity. Yet, he's bored and lonely.
Annie Morgan, an American music teacher, recently suffered a great loss. Aunt Harriet recruits Annie to be Teddy's executive assistant. Annie gets more than she bargained for. When she meets Gabriel, sparks fly.
Teddy, though, has forbidden anyone involved in the group to have romantic relations. Can Annie and Gabriel deny their attraction?
The Song That Seduced Paris is the author's debut novel and the first installment in the series. The opening pages are meant to grab the reader's attention, since Teddy is in the midst of a graphic sexual act with an employee, however, it might give the wrong impression. This is not a gratuitous novel filled with sex and no romance. Fans that prefer sweet and sexy romances with an actual plot shouldn't be discouraged. Keep reading.
Annie is a fabulous character. Right away, the reader feels empathy towards her given that she's still so young but has already lost her husband to a terrible disease. For over a year, she's barely functioned. When Annie signs on to be Teddy's assistant, it's clear she's intelligent and determined. Her task is to control four insanely talented and beautiful men who are on the way to becoming mega superstars. Controlling their music and egos would intimidate most. The tension among the men gives insight into the rest of the series, which is a smart play by the author to keep the reader interested in all the men in the group, not just Gabriel.
Even before Annie meets Gabriel in person, she's quite taken with him. After seeing a photo she thinks:
This was a man, and he'd probably stolen lots of hearts and broken a few, too. Has love found you yet? She wanted to ask him all kinds of fanciful questions.
There's no doubt a romance will blossom between Annie and Gabriel. But can two damaged people overcome their pasts to forge a lasting relationship? The angst surrounding this keeps the reader engaged.
This romance novel isn't just about a budding relationship between Annie and Gabriel. Teddy and Harriet have worked together for years. They are more mature and have a fabulous working relationship. Teddy appreciates Harriet's business acumen and it's refreshing to have an older male boss who isn't completely sexist. However, Teddy has missed the obvious about his intelligent, witty, and confident employee. She's beautiful.
Love isn't just for the young and the addition of Teddy and Harriet ups the ante in creating an intriguing, character-driven romance that packs a sweet punch.
The first book in Cindy Irish's Bel Homme Quartet series will win over many fans and promises that the rest of the series will be just as tantalizing.
Links
Cindy Irish.com
Amazon
Goodreads