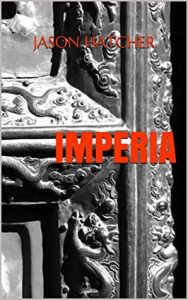 Imperia by Jason Hatcher is an epic fantasy about Fei Sei, the Red Empress, the ruler of an empire split in two. She has many enemies – Bamboo, a murderous concubine, as well as the Emperor, who are colluding with each other – and she's been trapped behind enemy lines for decades. A revolution is brewing in the Empire of Heaven, and the Empress must make a chilling decision that will affect the future of the Empire. A fascinating fantasy novel that incorporates historical fantasy, horror, and some erotica into a highly-charged and captivating read.
Though not Japanese himself, Hatcher spent his childhood in Japan and speaks Japanese fluently, and this knowledge and love of Japanese culture permeates Imperia. There is epic world-building here in a unique setting. What elevates Hatcher's novel is the characterization of the Empress, who's at once sympathetic, but not unflawed: she can be as ruthless as her adversaries.
If there's a weakness, it's that the world-building doesn't go deep enough: because the narrative is told from the point of view of the Empress, whose perspective is from the highest reaches looking down, we don't quite get the full view of the trenches of Hatcher's world. But then, it gives Imperia the flavor of a myth. Hatcher's aim is a sweeping history, not minutiae, and through that lens the novel works very well.
Recommended for readers of far-Eastern fantasy.