★★★★½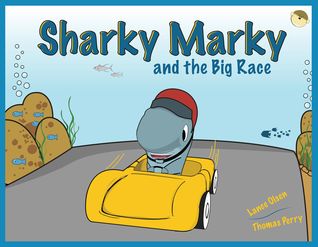 Sharky Marky and the Big Race is a fun children's book for ages 3-5 about a racecar-driving shark as he races against a collection of sea creatures. The book teaches counting, as the child is entertainingly instructed to count down from ten for every car Sharky Marky passes. Along the way, a couple participants attempt to derail Sharky Marky by puncturing his tires and spraying ink in his face, but Sharky Marky is triumphant in the end.
The narrative is very reminiscent of Pixar – sort of "Finding Nemo" meets "Cars." That's not a criticism, because who doesn't love Pixar? The colors are vibrant and the illustrations of the different animals will be appealing to kids, especially Sharky Marky, and the dull-lidded looks of the bad guys. However, the illustrations are bit too two-dimensional. The backgrounds especially come off as flat, with a computer-designed look. A school of fish in the background, for example, seem more like a collection of shapes than fully alive.
The story is fun and energetic, and as the book counts down with "Say '10' real loud…" one could imagine kids really getting into the spirit of things. This isn't just a book to be read at bedtime, it's a book that encourages participation, which is why the book could also be a useful educational tool – yet deftly woven into the story, so a child won't really even know it's a lesson.
There is, however, a teachable moment that is left unexplored. As mentioned, a swordfish and an octopus attempt to push him out of the race, but there's no repercussions for their behavior. They cheat in the first few pages, and then it's never mentioned again, which doesn't entirely seem like a good message to send. Likewise, Sharky Marky goes into a pit stop to fix the problems with his car, and then wins the race handily, even though his car's been damaged and he's well behind the pack. The book could have included a message about how you can still be a winner even when starting from behind, and that cheaters never prosper.
Without those messages, the story is not as dramatic as it could be – Sharky Marky wins the race mostly because the other animals aren't very good. He shows resourcefulness by fixing his car in the pit stop, but there could have been more about how he outsmarts the other animals. In short, the book needed more drama and suspense, and then the section where readers are meant to count down would have much more impact.
That said, there's plenty here to get a child excited. For all the criticisms listed above, the illustrations are lively, and readers will pull for Sharky Marky no matter what. Sharky Marky is definitely a character that kids will want to come back to time and again. There's a whimsical silliness throughout the book, in both the illustrations and the rhyming verse, which makes Sharky Marky and the Big Race a winner for young children just getting started with reading.
Links
Facebook
Amazon
Goodreads