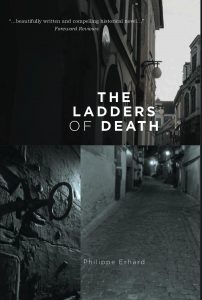 The Ladders of Death, by Philippe Erhard, is a compelling story about the bravery of two individuals during World War II.
In 1941, Jenny is a law student from Winnipeg, Manitoba. She's working at a garment factory to pay for her studies. One day at work, she witnesses one of her coworkers being humiliated simply because she's Jewish. Jenny is disturbed by this scene and is worried about the rise of antisemitism in her own country. She decides that she needs to act and volunteers to fight the Nazis.
Paul is a medical student in Besançon, a German-occupied French town. Paul is close to becoming a doctor, but he refuses to join an organization that espouses discrimination. His refusal annoys his superiors and he's listed as a member of the French Resistance. Paul flees for safety.
Jenny and Paul's paths cross in France. Can the two survive fighting the Nazis?
Many people have wondered what they would have done during World War II. Stand up for their beliefs or ignore the reality around them afraid for their lives and for the lives of their loved ones. No one can travel back in time to find out what they would have done. Except in historical fiction.
The Ladders of Death explores the concept of doing nothing to save oneself or making the greatest sacrifice to save one's soul and humanity. Erhard presents the options people had during World War II. While the main characters are ardent in their beliefs, things weren't completely black and white for them. And being surrounded by people who turned a blind eye makes it hard for Paul and Jenny to stand up alone. But they fear what will happen if they give in:
I'll lose my soul, my beliefs, and myself. That'll be the result of my passivity.
Even though the author is making a point, he's not preaching to the reader. He's crafted an entertaining story set against the horrors of the German occupation in France and the holocaust. In their determination to fight the Nazis and to survive, Jenny and Paul are forced into several uncomfortable situations, putting the reader on edge. At times, it's nearly impossible to set the book aside. The question of what's going to happen next forces the reader to keep going.
Erhard makes references to the extermination camps that most everyone today knows the Nazis used to kill millions of victims. However, at the time in the story, fall 1941, the Nazis hadn't built the first extermination camp and the term wasn't widely used. It's an easy pitfall to fall into for historical fiction authors. Hindsight is 20/20, but it's important to stay true to the time period.
The writing is solid and makes for an enjoyable experience. Occasionally Erhard slips into telling instead of showing. However, it's easy to see that he's a capable storyteller and with time and guidance he'll be able to overcome this obstacle.
All in all, this is an engaging novel, with action and suspense. Philippe Erhard writes in the note from the author: In the end, we are responsible for our actions and non-actions. World War II is over, but taking a stand for one's beliefs in today's complicated world is a daily struggle for all of us.
Links
Friesen Press
Amazon
Goodreads