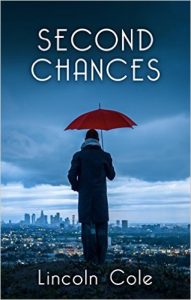 Second Chances by Lincoln Cole is a novel about big issues: racial discrimination and injustice, alcoholism, spousal abuse, and struggling to survive when society is stacked against you. The novel begins with Lakeisha who is facing virulent racism at an elementary school. When Lakeisha goes missing, her daughter, Nichole, must start caring for her younger siblings and picking up the pieces of a shattered life. She works with Richard, an attorney who got into the job with good intentions but has steered away from helping the common good, and he's facing a crisis of his own. Nichole's problems force both of them to make some very hard choices, and they're both in dire need of a second chance.
Second Chances may be an issue-laden novel, but it weaves these issues seamlessly into the book by virtue of the strength of Cole's characters. Though it's rife with social ills plaguing the current moment, the book doesn't hit you over the head, as these are very real issues that people need to face everyday. It's reminiscent of the Best Picture-winning film "Crash," though thankfully subtler in its depiction of social problems than that film. This doesn't read like a magazine article masquerading as a novel, it's a fully-realized work of fiction through and through, which is a significant accomplishment. It's not an easy read, but it's an important one.
A weak point is the title, which is fairly generic for a novel that is anything but. Second Chances manages to be both entertaining and eye-opening. The novel will make you feel more socially aware and connected by book's end.