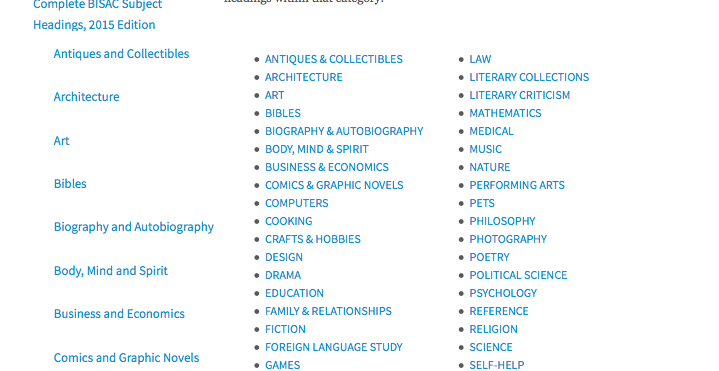 The Book Industry Study Group has announced the 2015 edition of BISAC codes that can be used for listing your book. BISAC is an acronym for Book Industry Standards and Communications, and is the descriptor used for high-level categories in libraries, bookstores, as well as being used on Amazon.
The BISG maintains this list.
"This year's edition focuses on the addition of the Young Adult Fiction (YAF) and Young Adult Nonfiction (YAN) sections for the young adult audience (ages 12-18), and an adjustment on the age group that the Juvenile Fiction (JUV) and Juvenile Nonfiction (JNF) sections cover, now preschool to 6th grade (ages 0-11). More than 500 new codes are included, the majority of which are within these two new sections."
To see the new headings, click here.
BISAC tutorial and FAQ page here for recommendations on utilizing the BISAC subject headings.