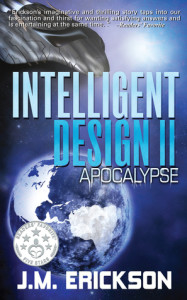 Taking place in the years following the events of Intelligent Design: Revelations, the earthlike society of Terra – nestled, shrouded by technology, in our very solar system – prepares for disaster. As the people of Earth have only now come to realize, Jupiter is about to ignite into a star, destroying all life on its surrounding planets. As former MIT-turned-Terran Andrea Perez tries to hide Terra from Earth with her supreme knowledge of technology, Martian Master Architect Janus calculates the trajectory of disaster, and German Christine Reich prepares her all-female squad of Epsilon Team Six to save the people of Earth… or at least some of them. It all comes to a head in Intelligent Design II: Apocalypse by J.M. Erickson.
The actual fiction is prefaced with no less than three epigraphs, and this comes after a lengthy summary of the setting and characters for those not starting from the first story. As one of these people, as much as I appreciate the thought, I honestly had only a vague clue as to what the book would be about from the descriptions provided.
Intelligent Design II is a dense story; the plot is retro sci-fi with a modern twist, as if it were recently re-written from a manuscript first penned in the era of the original Planet of the Apes. If you squint hard enough you'll see all sorts of influences at play, melted down and reforged into something… well, alien. It's a lean, brick-solid story that, just like its stalwart cast, doesn't mess around.
Maybe it's just that it's something a bit different, but as someone who can overlook the old-school shortcomings of this extremely eccentric story, I had a fairly good time with it. However, this is going to appeal to a very niche readership even within the already relatively niche sci-fi audience. Still, for that niche, this is a story that won't make time for you to catch up at any point, and that might just be what you're looking for as it barrels on through. For all the strange quirks at play, it's an enjoyable read. It's a bit plain, surprisingly devoid of action or drama at times, and the presentation definitely could have been improved in all areas from cover to text. It's a mildly campy space romp that sells itself hard and fast for the right reader.
Happily, this story seems to have been given a second life in the Intelligent Design: Revelations to Apocalypse edition that puts both Intelligent Design stories into one volume. Given "Star Wars" mania at the time of writing (December 2015) this book could do well if it rides the wave of intergalactic drama so well-loved right now.
Links
J.M. Erickson Indie Writer.com
Amazon
Goodreads