★★★★½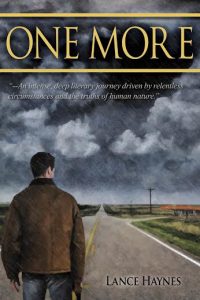 One More (The Solar Maximum Timeline) by Lance Haynes is a page-turning character study of one man facing an apocalyptic event and the turmoil in his own life. Richard Evans is a strong and goodhearted man with a difficult past. When he's out surveying in the Nevada Desert, he comes back to hysteria: a solar flare has burned out the electricity, bringing the world back to the 19th century. Determined to reach his home and repair the damage in his personal life, Richard meets a cadre of people affected by the disaster, both good and sinister, who test his every resolve.
What makes One More such an effective novel is that it's weighted more towards its character study of Richard than it is to the solar storm. Though there is plenty of action in the novel, that's not really at the forefront of the book – this is a cerebral novel. It's as much about a man's life and thoughts as it is about the turmoil happening in the world at large. Funnily enough, the novel is not entirely about a disaster. Obviously, the post-apocalyptic setting is a springboard for the action, but it's much more of a springboard for talking about one man's resilience, his will to survive, and dealing with past regrets.
Richard is already a survivor – he's survived the death of a child. That he didn't behave particularly well mirrors people's behavior in the face of a major disaster. That is, the solar flare has sent the world into chaos, and people respond horribly or positively. Such is the case with Richard himself and his personal tragedies. The solar flare is merely an example of a personal meltdown writ large. So there's a sense that by fixing part of his own family, the world itself will be a little bit more repaired. It's a good message, and an important one that anyone can take to heart.
Everyone has to deal with survival on a daily basis, whether they're facing a tragedy or not, and everyone has to deal with people's good and bad behavior. Strength in the face of adversity is a real test of character, and Richard is a testament to that. The solar storm is merely a way for Haynes to delve into an elaborate character study about personal will and courage, while still keeping the pace and scope of a disaster novel. It's a difficult balance for Haynes to pull off. Too much philosophizing and some readers want to get back to the action. Too much action and it would cheapen Richard's inner journey. One More strikes a very nice balance between the two.
A weak point is the cover, which is not as literary as the prose. Also the protagonist is older than the person on the cover. Additionally, while the prose is rich, there are occasional issues with sentence construction that could use some tweaking. Otherwise, One More is a strong post-apocalyptic novel, and a fine beginning to a new series. Once you get to know Richard Evans, you won't want to put the book down.
Links
Author Website
Twitter
Youtube
Amazon
Goodreads