★★★★★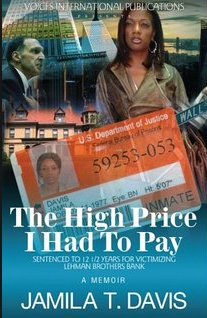 If you are not already privy to the race/class imbalance of the USA, this amazing story will make your eyes pop out of your head in disbelief – if you are, like most of us, this tale is just about the seal on the deal. A 25-year-old woman without a college degree at the time, gets accused of bringing down Lehman Bank for millions of dollars. Yes, actually breaking a huge investment bank. Her male, white bosses get paltry sentences while she gets 12.5 years in jail.
Jamila Davis, an African American from New York, was seen all over the news, her mugshot plastered wherever newscasters could get it. The FBI testified to Jamila's full guilt, and had the court sending a mother of young children to prison for their entire remaining childhood.
This memoir penned by Davis herself is her story: how she became embroiled in a situation and then the court case that ensued.
Jamila admits what she did do: something of a flip in a loophole for properties owned by rich and famous rappers and the like. She lived the high lifestyle in a beautiful apartment with an elevator in the middle and had a fleet of cars, jewels, and more. But she was not being honest, and this caught up to her – she is contrite in this. But to award her such a sentence for a white-collar crime, and to demonize her in court is clearly not justice. Her law team failed her, one even killing themselves.
Talking about overincarceration and social issues for women such as herself, Davis has gone on to be the unique inspiration for her family, and for many other incarcerated women. She has started a publishing imprint with her parents, Voices International, and speaks to inmates about how they can heal their lives, and survive jail. Her son has been inspired to create a very successful celebrity clothing line to push himself through college. Her daughter writes amazing motivational prose. Maybe Jamila's kids would have been this way anyway with this intelligent, word-savvy writer for a mom, but it's a testament to her remote parenting skills all the same.
While maybe the end of the book speaks too personally and emotionally about NJ Governor Chris Christie and the way that he supported Jamila's incarceration, she has a point. The Old Boys' Club is alive and well in New York State, and there's no justice in sight for most women of color accused of non-violent crimes in America if they can be made a scapegoat. Lack of resources compared to her counterparts made it easy to pin it on the younger and less experienced defendant here.
This is a cautionary tale, but also a real champion's one also, and stands as a testament to the power of positive thinking even in the worst of situations in today's hard, cold world, and to be honest, shows that America's interior race relations fundamentally have moved very little in three hundred years. A must-read for anyone looking for an inspirational women's story with real themes to be discussed right now.

Links
Author Website
Twitter
Amazon
Goodreads