Lance Olsen is the author of the Sharky Marky and The Big Race(2014), Sharky Marky and the Scavenger Hunt: An Alphabetic Adventure (2015), and Sharky Marky and the Supermarket Sweep (2017).

Early in his career Lance found himself in Hollywood where he would go on to executive produce two feature films: King Cobra (1999) and Pinata Survival Island (2002). After his brief stint in LA, he decided to move back to New Orleans and pursue a career in the arts.  Lance resumed a writing career while at the same time taking classes in video-editing and graphic design. It was there that he befriended his teacher and the eventual illustrator of the Sharky Marky Book Series, Thomas Perry.
Tell us something about your book. The basics: what's it about?
Sharky Marky and the Big Race is children's picture book story about not giving up when it seems impossible to succeed. The protagonist, Sharky Marky finds himself in a world of trouble at the start of an undersea car race. Meanie Marlin "flattens" his tire and Octo Eddy "sprays" ink in his face. Our hero finds himself with a flat-tire, ink in his face, and in last place position as all the other racers zoom past him. 
That seems like a tough comeback for anyone to make. 
Absolutely. And yet, it gets worse! He then loses more time having to make a pit stop. However, when everything seemed to be falling apart, things were actually falling into place for Sharky Marky. Starfish Stuckey changes his tire and then the rip-roaring underdog adventure is underway. Yet, there is a fun twist here for the kids. The reader must cheer numbers – out loud – to encourage Sharky Marky to pass each competitor. This leads to a dramatic photo finish at the end against his main rival, Octo Eddy.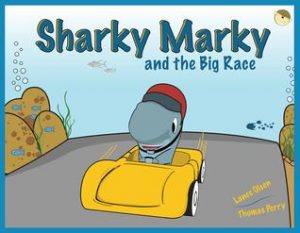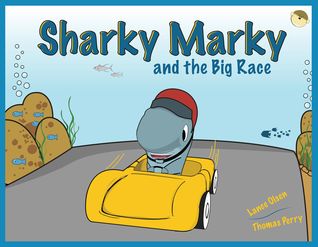 What drove you to write this particular book?
Obviously there's the educational aspect –with counting– and fun to be had with the participation part of the story. However, the message of Sharky Marky and the Big Race is about encouragement, trials, tribulations, and redemption. We all have struggles. We all get discouraged. We all fall down. It is in the valley where our dreams can die. But the power of consistent encouragement can inspire others to climb mountains that would otherwise be impossible for them. Sharky Marky didn't pass all the racers all at once! He was continually encouraged by the reader(cheers), and eventually he found himself in position to win the BIG race. Encouragement builds confidence and is the fuel that keeps us going. And when we learn to appreciate our small victories, the mountains ahead look tiny.
What's your writing regimen? Where do you do your writing?
I do most of my writing at my office in Metairie, Louisiana. The drive is about 40 minutes from my home  and usually I'm daydreaming during the drive. When I get to the office I then place my daydream on paper.
Who are your greatest writing influences?
 I loved Dr. Seuss and Maurice Sendak as a child



. I'm a firm believer a children's picture book story should be first and foremost–fun! If the story is not fun kids will just not pay attention enough to gain anything from the material in front of them. Ironically, once the fun is in place the inspirational and educational aspects become a great deal easier to add to the story.
What self-publishing service did you use? Happy with the service?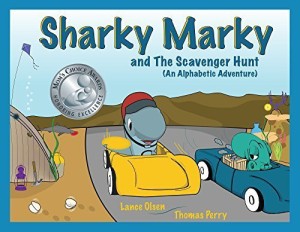 I haven't used any self-publishing services other than Warzalla who handles the printing. They are a wonderful company to work with.
Any words of advice for those looking to self-publish? Any big missteps/successes?
What has helped me is to work on improving myself spiritually, emotionally, and physically. All these aspects helped me grow as a person to tackle the challenges. These were in motion well before I began writing. I feel shortcuts produce short results. Aside from that, I would say it's important to learn from others that are more experienced. Go to book shows and events and put yourself out there. Try to get reviews before you publish your book. Try to be around people that encourage you. This is not an arena where one can survive with self-doubt and fear.
What's next on the horizon for you as an author?
So far two books are finished and published– Sharky Marky and the Big Race and Sharky Marky and the Scavenger Hunt: An Alphabetic Adventure. The next book is titled Sharky Marky and the Supermarket Dash, which will be released in 2017.  I'll begin writing the 4th book in the Sharky Marky picture book series very soon. I'm still hoping for a TV show deal for Sharky Marky. I feel there's enormous potential there for kids to not only have a lot of fun, but to hear strong redeeming social value messages that influence good behavior.