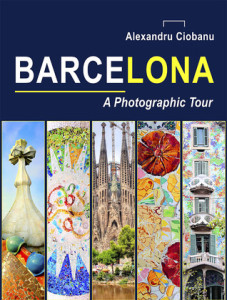 "Barcelona is the city of colors." So begins Alexandru Ciobanu's photographic travel guide, which certainly lives up to that first declaration. In vibrant color photography, Ciabanu covers the gamut in the city of Barcelona, from major attractions to hidden corners. Additionally, it's a well-detailed travel guide, outlining the history behind each one of his pictures, in prose that's both concise and informative.
Sometimes color photography can lose the timeless romance and detail of black and white photography, but such is not the case with Ciobanu's photographs.  Ciobanu makes great use of vivid HD photography, which brings out texture and color. He also employs fish-eye photography for striking vistas. Not only will this this informative tome make you want to visit Barcelona, it'll inspire you to take more photographs on your trip.
The main knock against the book is that it doesn't contain phone numbers and addresses, or any info about restaurants, so it can't necessarily be used to good effect by travelers on vacation in Barcelona. But as a memento of the experience, or something to whet your appetite about what the city has to offer, you're not going to going to find a much better coffee table book about the city. There's also a book in the same series about Rome.
Links
Author Site
Amazon
Goodreads