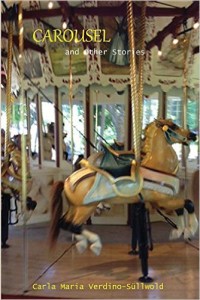 Carousel and Other Stories by Carla Maria Verdino-Süllwold is a lyrical collection of stories about the small poetic moments in a marriage. Whether it's a couple rekindling their passion on vacation, couples facing the daunting prospect of the draft, it's a collection about fears and dreams unfulfilled, but each finding contentment among the difficulty. Verdino-Süllwold's prose is eloquent and thoughtful. She has clear affection for her characters and sympathy for their troubles, which only evokes the same feeling in the reader.
Smartly, Verdino-Süllwold uses the motif of the carousel to describe the cyclical nature of her characters' lives. Though they're moving into the future, they're also continually in connection with the past, and their past issues come round again. It's not a pessimistic outlook because they're ready for what life brings this time around. Similarly, each character is facing a similar sense of regret, illustrating that not only are our personal lives cyclical, but it's something we all share together.
One thing that has to be mentioned is the quality of the cover, which is really not up to snuff. It's a fine evocative picture, but more could be done with it. It certainly is not a reflection of the quality of prose inside, which has a quiet profundity that is at once cerebral and comforting.
Links
Author Site
Amazon