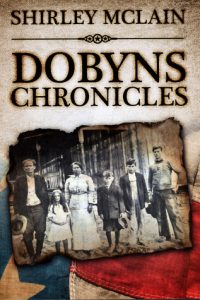 Shirley McLain's fictionalized biography, The Dobyns Chronicles, is an affectionate retelling of episodes from her own great-grandfather Charley's interesting life beginning in late 1800s Oklahoma and Texas. It tells of a real family's everyday survival in a vanishing, self-sufficient world and introduces the many characters they meet along the way. It brings to life the hardships of this era, and opens up a chapter of American history that few people will have encountered in such detail before.
McLain's writing bears the stamp of true admiration for Charley's determination against all odds, and the descriptions of the family's way of life back then are carefully detailed. It is this reverence for the facts that sets the book off to a slow start, and renders many passages a little bland. More rounding out of the main characters would help maintain the reader's attention, and some of the dialogue seems stilted. The inclusion of the family photos helps to fill the gaps when it comes to getting to know the characters, but in the dialogue they still perhaps deserve some finer tuning, maybe through the use of more colloquial language. The book as a whole feels as though it would benefit from some tighter editing. I quite liked the honest simplicity of the book's cover, although I'm guessing it wouldn't stand out to some readers.
However, I found this little-chronicled slice of life at the turn of last century consistently fascinating throughout – nothing went to waste (an account of the meat produced from one pig includes smoked sausages, cured ribs and hams, crackling cornbread, liver and onions, canned meat and so on), and people worked hard to make the most of what they had. Charley and his family certainly show a strong spirit in everything they do, and they never spend time feeling sorry for themselves.
The author does manage to tug on our heart strings on occasion, such as when Charley is left in charge of his young siblings and he paraphrases Psalm 23 so that the little ones can understand. He says, '…You cover me with your grace, and bunches of blessings are mine…' Charley has to deal with everything from cooking meals, milking the cows, dealing with copperhead snake bites and staving off yellow fever – all by the age of ten.
For anyone looking for a fresh slant on cowboy history, this may prove to be an enlightening and heart-warming read. In the end, and despite its flaws, Dobyns Chronicles sweeps us off on its wide-ranging journey through one family's unique adventure together and takes us to a place that will never again exist as it did then.
Links
Author Site
Twitter
Amazon
Goodreads