★★★★½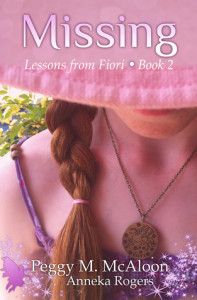 Elle Burton is a fairly normal girl in most respects. Ordinary, but extraordinary enough to catch the eye of the fairy-like creatures of the Fiori, who charge her with the protection of the Earth. She's been successful in doing so so far, even if her mother is displeased at her regular disappearances. The problem is, this time it's her brother who's disappeared, and it's up to Elle to find him and bring him back. With the help of Fiori, Elle's about to go on an adventure to save her little brother in Missing, the second book in the Lessons from Fiori series.
McAloon and Rogers previously published Elle Burton and the Reflective Portals together  and have now penned the sequel, Missing, adding the Lessons from Fiori title to the series in the expansion. (This means the first book probably needs updating itself to include the series title so as not to confuse readers looking for the first book). This is a sequel, and although it doesn't entirely require knowledge of the first installment the story opens on what seems to be the end of the previous part, and the writing does little to really enlighten you on much of what's going on if you've just joined, but it's fairly simple to pick up and go from there as long as you've read the synopsis before diving in.
The plot is quite simple, deepening just enough to draw a reader believably into its created world. The style of writing at play doesn't have any edges, and is somewhat buffered down by the homely setting and its light fantastic tone, leaving a very soft and gentle experience for the reader. This is may be a good thing for the sort of audience that would like this niched subgenre, although myself I would have liked a little bite – fairies are not all sparkles and magic wands, and added emotional depth here and there would have enhanced the reading experience with a little more conflict. Getting into this book did bring back memories of Labyrinth and its charmingly monochrome setting, ever-tinged with enough optimism that even the darkest moment has a light to it. This is in no small part due to the wonderful young lead in Elle, who really shows a lovely brightness at all times.
The book is probably a bit too soft for many older readers looking for a fantasy novel, and it does have its flatness at times. However, this is more than compensated with buckets of magical charm. The editing is passable, and given its serviceable presentation appealing to young female readers with its pink theme and the very straightforward writing, the audience aimed for is soon to find the series and fall into it happily. It's a wonderful tale that understands its reader base, in itself no mean feat, and as a fantasy fan with an interest in all things magical I find myself wanting to see more of this series in the future for sure.
Links
Author Site
Twitter
Amazon
Barnes & Noble
Goodreads