★★★★½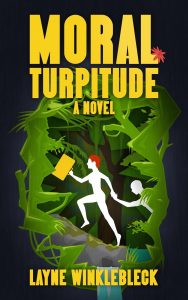 Moral Turpitude, the first book in the Ange Parker Series by Layne Winklebleck, is an action-packed thriller.
Davis Sheffield is the billionaire majority shareholder of Sheffield Industries, a private defense contractor. Davis, formerly Robert Davis Jones, married into the Sheffield family. His wife died young and the Sheffield family wants to kick out Davis from the company. To accomplish this, they accuse Davis of moral turpitude based on kinky experiences from years ago.
Ange Parker, a young and idealistic attorney, advises Davis to go into hiding to avoid being served. Davis follows a hunch and entrusts Ange with proxies and powers of attorney. But will the Sheffield family prove to be too much for Ange Parker? And what lengths will they to go to kick Davis out?
The storyline is a convoluted tale of corporate sabotage, erotic adventures, drug cartels, corrupt CIA agents, and kidnappings. Yet it's told simply and succinctly, which is a testament to the author's mastery of the subject matter and plot. In addition to so many revolving storylines, the novel takes place in several locales, including the US, Costa Rica, and Borneo.
This is the type of story that gets your heart pumping. Right from the start, things are not going well for Davis. The author handles his checkered past well. Not all readers will approve of his lifestyle, but the author is never in your face. And underneath everything, Davis is a caring, sensitive, and has a strong desire to help others. Ironically, the members in the Sheffield family who have accused him of moral turpitude are the exact opposite of Davis. Greed and power drive them. The author doesn't get on the soapbox, but it's clear a case is being made. Certain vices are more acceptable socially, even if they are more damaging.
Ange is thrown right into the middle of the enemy's camp and the Sheffield family play dirty. As soon as one problem is resolved, it seems like five more pop up for the feisty lawyer. The twists and turns are unpredictable, rapid, unsettling, and leave you breathless.
Both Davis and Ange are surrounded by a quirky cast of characters that aren't your typical types in a thriller. Some add just the right amount of screwball antics to alleviate the tension. Others are the types you want on your team when facing unbelievable odds. One of the bad guys is the type of character that'll make your skin crawl. A little more character development would aid the reader to understand the motivations of everyone. At times it's hard to know why certain characters say and do things towards the end of the novel.
Please note that there are graphic scenes depicting violence, physical and sexual, that some may find upsetting.

Links
Amazon
Smashwords
Goodreads