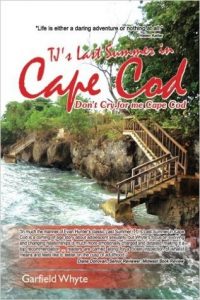 A sexy summer saga of growing up and falling in love
The stumbling journey of young love is often the core subject of great stories, and this amusing and compelling novel by Garfield Whyte certainly falls in that category. It is the story of growing up, making mistakes, and defining your identity as a teenager faced with all the temptations and troubles of adulthood.
TJ initially seems like your average teenage boy – easily influenced by older male role models, hungry for knowledge and eager for experience with women. Uncle Peter, on the other hand, is a wild and passionate man who has embraced a hedonistic lifestyle, and hopes to shape TJ in much the same way. Their relationship is decidedly strange, ranging from TJ's first sexual experience with Uncle Peter's "girlfriend" to Peter's flexible morality and mischief guiding TJ's love life, but there is certainly a great deal of affection between the two.
Whyte does an excellent job expressing the deep bonds of their relationship, while simultaneously showing the strain on them as TJ wrestles with decisions on how to progress with Maggie and Sye. Expressing emotional uncertainty can be hard to show, rather than tell, but the author does an excellent job of creating a realistic personality for TJ. Balancing his admiration and hero-worship of his uncle with his own feelings and ethics regarding women and relationships, we see a legitimate struggle expressed on these pages – one that many other young (and old) men can likely relate to.
Transitional periods in life always make a great setting for a novel, and the summer after senior year, before "adult" life officially begins, was perfect for this story. The flashes of temper, immaturity, and unpredictability seemed penned by a teenager actually going through such a life-altering stage. The book was filled with believable prose and well-formed characters, but there was also a unique style to the writing, emphasized by the briefness of the chapters, that made it difficult not to read "just one more".
The shifting of TJ's loyalty from his parents to his uncle was uncomfortable at times, and any writer that can make a reader feel such visceral emotions is skilled, to say the least. The eroticism of the writing grew throughout the summer, and as with every discovery of sexuality, the depiction of TJ and Maggie/Sye was at times awkward, passionate, and touching all at once.
One complaint would concern the dialogue, which was at times heavy-handed and occasionally seemed unnatural, such as in the restaurant scene with the astronomical bill between TJ and Maggie. Some of the conversations between TJ and his uncle were also stilted and borderline inappropriate, which made it easy to fall out of the flow of the story.
This wasn't enough to ruin the experience, by any means, but should be considered by the author in his future books. TJ's Last Summer in Cape Cod took us through the minutiae of falling in love, which can be like seeing how your food gets made: It's messy and uncomfortable to watch, at times, but the end result is rather remarkable.
Whyte has managed to wrap up all the insecurities, pitfalls, and crucial decisions of teenage life in the scintillating span of one summer, and by telling the story of a flawed "hero" with a great deal to learn, readers never know what's coming next. The fickle nature of youth and love are on impressive display in Whyte's latest novel, and his firm grasp on the intricacies of human relationships is undeniable.