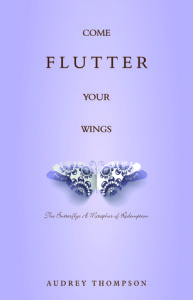 Come Flutter Your Wings by Audrey Thompson is a passionate declaration of faith in the form of devotional poems, scripture, and stories from her life, in which she's gone down a dark road and come out the other side with intense optimism and hope. It's brimming with earnestness and sincerity, and should be a comfort for other religious devotees who have had to triumph over adversity.
Thompson's faith is on profound display throughout the book, but sometimes we are not given a clear indication of just how she persevered in her life. Of course, this is part of the book's passionate intensity: she's looking forward, not backward. Still, the book is at its most poignant when Thompson gives real detail about herself and her family. It's also moving when she writes metaphorically in her poems, such as watching two red birds in flight as reflecting her own sense of flight and renewal.
Christian devotees will most surely see a warm kindred spirit in Thompson's writing. While the devotional poetry and prose could perhaps have used more direct autobiographical writing, her passion and joy for her faith come through loud and clear, and as a message of pure faith, Thompson's words are redemptive and inspiring.
Links
Inkwater Books
Amazon
Goodreads