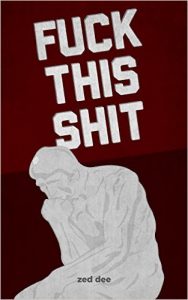 F*ck This Sh*t by Zed Dee is a novella-length memoir about a man in Singapore approaching thirty who's still a virgin and struggling with autism, diagnosed late in his life. He finally ends up going to a selection of prostitutes and sex therapists, who cannot seem to help him, as his sexual dysfunction goes beyond his virginity. Dee cannot enjoy sex fully, and given his autism, he sometimes recoils at the human touch. Dee then goes on a quest to understand his past and present and find a new degree of contentment.
Readers must know that this is a sexually explicit work, as Dee is determined to find out just what is wrong with him. However, it is also brazenly and refreshingly honest, as Dee has no qualms of laying himself completely bare for himself and for his readers. It's an unapologetic and fearless work, though it may make some uncomfortable. Dee is a straightforward and engaging writer, so at times the book reads like fiction. The book would have perhaps been suited better to contain more of his poetic flourishes, rather than clinical detail as it does in the latter part of the book, but then Dee is a man on a mission.
It's not an easy read because of its subject, but it's engrossing and fascinating because of Dee's drive to get his story down.
Content warning: Contains explicit sexual language.